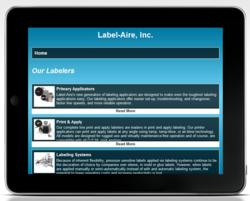 Fullerton, CA (PRWEB) November 29, 2011
Label-Aire recently launched its new mobile web site optimized for smartphones and tablet computers making their line of pressure-sensitive labeling machines easily accessible on your mobile device.
•Machine Application Videos
•Access to Labeling Machinery White Papers
•Full Product Line Information
•Tradeshow/Event Information
•Social Media Features
•And Much More...
Label-Aire provides simple and cost-effective labeling solutions for your operation. For more information, visit http://www.label-aire.com or call 714-449-5155.
###