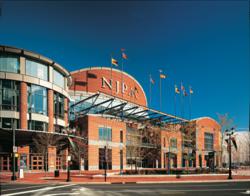 By any measure, Stephanie and Baraka are revered programmers throughout the arts and culture world. I couldn't be more delighted that they will be collaborating with the Arts Center in its next phase of growth.
Newark, NJ (PRWEB) November 21, 2011
The New Jersey Performing Arts Center reaffirmed its relationship with veteran executives Stephanie Hughley and Baraka Sele, announcing today their appointments as consulting producers for a variety of special projects and initiatives throughout the 2012-13 season.
"All the elements of our programming division restructure are now in place," said NJPAC President and CEO John Schreiber. "By any measure, Stephanie and Baraka are revered programmers throughout the arts and culture world. I couldn't be more delighted that they will be collaborating with the Arts Center in its next phase of growth, continuing to bring thoughtful and innovative performances and events to NJPAC audiences."
Hughley and Sele will work closely on a project-specific basis with David Rodriguez, who will assume the newly created role of NJPAC Executive Producer and Vice President in January 2012, as announced last week.
"I have worked collaboratively on projects with Stephanie and Baraka for over a decade and look forward to continuing this relationship at NJPAC," said Rodriguez. "I am fortunate to have the opportunity to build on the foundation they have created and am excited to have them continue as part of the team."
Hughley was NJPAC's founding Vice President of Programming from 1995 through 1999, at which time she returned to Atlanta where she was appointed Executive Producer of the National Black Arts Festival (NBAF), for which she was the founding Artistic Director. Prior to joining NJPAC for the first time, Hughley was producer of theater and dance for the cultural celebrations surrounding the 1996 Olympic Games in Atlanta. She returned to NJPAC as Vice President of Programming and New Media in 2009.
"I am happy to continue my long affiliation with NJPAC. As the former VP of Programming and New Media, my focus has shifted to the use of new technologies and media as audience development and access tools. I welcome the opportunity to work with David Rodriguez and John Schreiber on several specific initiatives including the International Sarah Vaughan Vocal Competition in association with Larry Rosen; a theater development initiative; additional media projects to be determined; and with Baraka Sele on documentation, presentation and broadcast opportunities for a project we have been developing with Delaney Hall, a residential reentry treatment facility, as well as a major convening conference tentatively titled "What's It Gonna Look Like: Sustainable Newark and Beyond."
During her fifteen year tenure at New Jersey Performing Arts Center, Sele brought to NJPAC's stages internationally renowned artists and companies such as Alice Coltrane, Batsheva Dance Company, Bill T. Jones, Celia Cruz, Cloudgate Dance, Isaac Hayes, Kronos Quartet, Milton Nascimento, Momix, Nina Simone, Paquito D'Rivera, Philip Glass, Pharoah Sanders, Ravi Coltrane, and Ruben Blades, among others. She commissioned new works by a variety of international choreographers, and produced festivals that were both community-based and international in scope including Alternate Routes Hip Hop Festival; Encuentro!, a Latin music festival; Jersey Moves, a festival of New Jersey-based choreographers and dance companies; and NJPAC's first LGBT Festival. Sele was the founding producer/curator of NJPAC's Alternate Routes series (formerly NJPAC World Festival).
"After a fifteen year tenure at NJPAC, I am pleased to say that I will return to my role as performing arts consultant and independent producer--which was my initial relationship with NJPAC in 1996," said Sele. "I will work in concert with NJPAC's new Executive Producer/Vice President, David Rodriguez to continue the programs I have curated for the 2011/2012 season, including an adult education program with inmates/residents at Newark's Delaney Hall that teaches creative writing and spoken word skills. I will also develop projects for the 2012/2013 season, such as working with the Geraldine R. Dodge Poetry Festival, the presentation of a newly commissioned work by choreographer Ronald K. Brown, and a tribute to legendary vocalist Dionne Warwick."
New Jersey Performing Arts Center (NJPAC), located in downtown Newark, New Jersey, is the sixth largest performing arts center in the United States. As New Jersey's Town Square, NJPAC brings diverse communities together, providing access to all and showcasing the State's and the world's best artists while acting as a leading catalyst in the revitalization of its home city. Through its extensive Arts Education programs, NJPAC is shaping the next generation of artists and arts enthusiasts. NJPAC has attracted over 6 million visitors (more than one million children) since opening its doors in 1997, and nurtures meaningful and lasting relationships with each of its constituents. Visit http://www.njpac.org for more information.
Programming has been made possible in part by funds from the New Jersey State Council on the Arts/Department of State, a Partner Agency of the National Endowment for the Arts, by funds from the National Endowment for the Arts, and by Discover Jersey Arts.
NJPAC is a wheelchair accessible facility and provides assistive services for patrons with disabilities. For more information, call 888-GO-NJPAC.
# # #