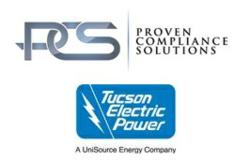 "Bringing PCS on board brought a wealth of third party industry and audit experience." said John Tolo, TEP's Manager - System Control and Reliability
Tucson, AZ (PRWEB) November 23, 2011
For Tucson Electric Power (TEP), preparations for its three year WECC compliance audit of the NERC 693 Standards began in earnest nearly nine months before the actual data requests started rolling in. The planning process included a decision to engage Proven Compliance Solutions Inc. (PCS) to perform a limited Mock Audit of 17 selected standards containing 79 requirements and 229 sub-requirements. TEP's decision to focus on the high impact and more recently approved standards proved both effective and valuable by reinforcing a good TEP program, while allowing the Subject Matter Experts (SMEs) to focus their attention where it was most needed prior to the actual audit.
Immediately following the Mock Audit, TEP took the recommendations of the PCS team, strengthened certain areas of their various evidence stacks, and also made a decision to re-engage PCS to provide additional support going into the on-site portion of the audit process. The on-site 693 audit began with data requests during the second week of August 2011 and concluded with a one week on site audit experience. The exit meeting (and closing presentation) conducted by the WECC audit team was held on Thursday September 1, 2011.
When John Tolo, TEP's Manager – System Control & Reliability, was asked about the value of the PCS Mock Audit and his decision to limit the scope, John replied:
"The decision to limit the scope of the initial 693 Mock Audit was based on our history of successful WECC audits. For many of the standards we felt confident in both documentation and evidence. We contracted with PCS to focus our effort in the areas of highest impact to assist us with instilling a high level of Subject Matter Expert confidence, and with evidence vetting and verification. Bringing PCS on board brought a wealth of third party industry and audit experience. The PCS team spent the time needed to understand our operations and then help us articulate our processes to an audit team."
When asked about the real success story, John's response emphasized TEP's focus on reliability as the driver.
"We never underestimated the effort that would be required to complete our 693 audit to attain a positive outcome. Through the hard work of the entire team, including PCS, TEP was able to supply quality documentation, appropriate evidence, and even more importantly, prepared and confident SMEs, for the audit. The success of the compliance audit shows that TEP takes reliability very seriously but we will always take even greater satisfaction in operating the Tucson Electric Power System reliably."
Mitchell Needham, PE and Managing Partner and Director for the 693 compliance efforts at PCS, a former NERC Auditor and NERC Regional Compliance Oversight Manager, describes the importance of the SME role in an audit scenario:
"The SME plays a vital role in building an auditor's confidence in the entity. Because most SMEs are not inherently "comfortable" during an audit or audit interview, there is great value in developing both the SME comfort level and true understanding of protocol when responding to an auditor's questions. When properly instilled with that confidence, the documentation and evidence are reflections of the actual operations supported by that SME."
When asked about his experience managing the engineering focus areas throughout the Mock Audit and the actual on-site audit TEP's Mike Flores, Manager of Engineering Services, said:
"I initially thought our role would be more or less limited to responding directly to the questions asked by the audit team. The PCS folks went beyond that by emphasizing the need to supply the auditor with the facts and evidence in a clear and concise manner. PCS also emphasized that when necessary it is OK to ask for clarification. The goal during the process was always to instill the fact that…. Our Operators, Engineers and the many other Tucson employees operate and manage our system and processes reliably … period! The process used by PCS, both prior to and during our audit period, provided immeasurable confidence to our employees as they went into any requested interviews or while responding to data requests."
In conclusion, Francis Esselman, PCS Vice President and TEP audit support team member, summed up that:
"The Tucson Electric project was another opportunity to take the process from Mock Audit through to the finality of the actual audit. It was really because of the involvement, collaboration, and cooperation of dedicated and talented TEP employees that the outcome was so successful There were so many positive interactions from the executive team while PCS was at TEP and throughout it showed that a culture of compliance existed that would rank as one of the best I have seen. I am very pleased that TEP allowed PCS to be part of this success."
Tucson Electric Power registrations include:

Balancing Authority
Distribution Provider
Generator Operator
Generator Owner
Load Serving Entity
Planning Authority
Resource Planner
Transmission Operator
Transmission Owner
Transmission Planner
Transmission Service Provider
PCS consultants are passionate about helping entities manage the ever-increasing burden of NERC/Regional compliance. With a team possessing over 250 years of combined industry and consulting experience, PCS has provided compliance and reliability expertise to major and dynamic growth utility companies. Focusing on its core strengths - Compliance Management, Auditing, Implementation, Development, Document Management, and Critical Infrastructure Protection - PCS's world-class strategic services deliver practical solutions and results to enhance its clients' ability to effectively manage its compliance programs and efforts.
###