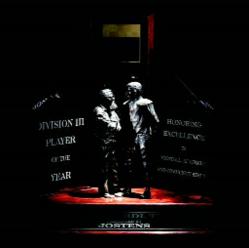 Minneapolis, MN (PRWEB) November 22, 2011
A representative from each of the three top-ranked teams has been named among 10 finalists for the 2011 Gagliardi Trophy given to the most outstanding football player in NCAA Division III (D-III) by Jostens and the J-Club of St. John's University of Minnesota. The Gagliardi Trophy, given annually since 1993, recognizes excellence in athletics, academics and community service. The award is named after John Gagliardi, St. John's legendary Hall of Fame head football coach who has 484 career victories, the most in college football history.
The Gagliardi Trophy will be presented on Wednesday, December 14, in Salem, Va., home of the Stagg Bowl, at a banquet kicking-off the D-III championship weekend. Candidates are nominated by their college president. The top four vote-getters, as determined by a national selection committee, will be on hand for the banquet; announcement of the winner and presentation of the trophy will be made at that time.
Seniors Matt Blanchard, quarterback on number one UW-Whitewater's defending national championship team; safety Alex Ferrara from second-ranked University of Mount Union (Ohio); and wide receiver/kick returner Fritz Waldvogel of number three University of St. Thomas (Minn.) all helped their teams advance to the 2011 D-III playoffs.
Other Gagliardi finalists playing in the playoffs this fall are seniors Alex Thiry, St. Scholastic (Minn.) quarterback; Michael Zweifel, senior wide receiver from Dubuque (Iowa); Peter Bulandr, North Central College (Ill.) defensive tackle; Hewitt Tomlin, Johns Hopkins (Md.) quarterback; and Alex Tanney, Monmouth College (Ill.) quarterback.
Two additional quarterbacks were also named: senior Dan Pitcher from SUNY-Cortland and Chris Haupt from Widener (Pa.), the lone junior among the finalists.
The Gagliardi Trophy national selection committee is composed of 38 former small college football players, business leaders, academicians and sports writers from around the country. Each casts a ballot ranking the ten finalists.
The trophy design features a sculpture of Gagliardi and a player representing the teacher-coach and the student-athlete in a classic one-on-one sideline consultation. Hand-cast in bronze on a polished wood base, the trophy stands nearly two-feet tall and weighs 64 pounds. The words "Division III Player of the Year" and "Honoring Excellence in Football, Academics and Community Service" are etched in glass on two panels flanking the figures. All-American quarterback Eric Watt of Trine (Ind.) University was the 2010 Gagliardi Trophy winner.
The 2011 Gagliardi Trophy finalist include (statistics are through end of regular season):
Matt Blanchard, UW-Whitewater senior QB from Lake Zurich, Ill. West Region.
Returning starter on defending national champions. Rated 6th in D-III passing efficiency at 167.59 (conference leader) on 19 TD passes with 3 INTs. Physical education major. Active volunteer with programs for youth as well as senior citizens plus Special Olympics and Relay for Life.
Peter Bulandr, North Central College (Ill.) senior DT from Long Grove, Ill. North.
Conference defensive player of the year on team with three league shutouts in 2011; had six sacks on the season. Economics major and member of three national academic honor societies. Extensive volunteer efforts supporting Habitat for Humanity, Special Olympics, food drives.
Alex Ferrara, University of Mount Union (Ohio) senior S from Independence, Ohio. North.
Team leader on nation's number-one ranked defense yielding an average of 7.1 points, 172.7 yards per game. Returned one of two INTs for TD. Business administration major; named academic all-American in 2010. Conducted community-relief mission trip to El Salvador; involved in local youth programs.
Chris Haupt, Widener University (Pa.) junior QB from Bloomsburg, Pa. East.
Threw for 255.5 yards per game with 28 TDs and 9 INTs.; directed offense to 47 points/game average (3rd in D-III). Engineering major. Volunteered in residential clean-up project and for Special Olympics, American Cancer Society and youth baseball clinic.
Dan Pitcher, SUNY-Cortland (N.Y.) grad student QB from Cortland, N.Y. East.
Conference offensive MVP rated 7th nationally with 166.61 passing efficiency rating; had school record 29 TD passes (5th most in D-III) with 4 INTs. Sport management grad student received state post-graduate scholarship. Participated in bone marrow registry drive, volunteer coaching and Kids' Day.
Alex Tanney, Monmouth College (Ill.) senior QB from Normal, Ill. West.
Led D-III with 330.4 passing yards/game as team compiled top total offense (556.7 yards/game). Was 3rd in passing efficiency (193.34 rating; 73.02% completions, 35 TDs, 7 INTs); 4th in total offense. Business major. Volunteer programs include college phone-a-thon, YMCA and youth reading readiness.
Alex Thiry, College of St. Scholastica (Minn.) senior QB from Cambridge, Minn. West.
Top-rated D-III passer with 235.54 efficiency rating; had 37 TD passes and 1 INT while completing 73.3% of his passes. Secondary education/social studies major. Volunteers with a variety of programs supporting Meals on Wheels, Salvation Army, Down Syndrome Walk, local schools.
Hewitt Tomlin, Johns Hopkins University (Md.) senior QB from Jackson, Tenn. South.
Directed 4th best D-III total offense with 500.3 yards/game in JHU's first 10-0 season. Conference offensive player of the year with 23 TD passes, 5 INTs. Public health major. Worked with summer day camp youth.
Fritz Waldvogel, University of St. Thomas (Minn.) senior WR/KR from Mendota Hts., Minn. West. Scored 12 TDs with 1,328 all-purpose yards, 865 coming on 54 receptions. Conference MVP as sophomore has league career returns for TD records. Finance major. Veteran volunteer at food drives, fundraisers and community cleanup efforts; Allstate AFCA Good Works Team nominee.
Michael Zweifel, University of Dubuque (Iowa), senior WR from Whitewater, Wis. West. Topped all NCAA divisions with 12.7 receptions and 178 yards per game, 24 receiving TDs. Helped team to first Iowa Conference title in 31 years. Health/wellness/recreation major is only D-III finalist among 16 Campbell Trophy candidates. Active volunteer with campus projects and at local schools.
About Jostens
Minneapolis-based Jostens is a provider of products, programs and services that help people tell their stories, celebrate important traditions and recognize achievements. The company's products include school yearbooks and other memory book products, scholastic products such as class rings and graduation products, and products for athletic champions and their fans. Jostens is a subsidiary of Visant Corporation, a marketing and publishing services enterprise servicing the school affinity, direct marketing, fragrance and cosmetics sampling and educational and trade publishing segments.
About St. John's University J-Club
Founded in 1959, the St. John's University J-Club is a dues-based booster organization of former Johnnie student-athletes, parents and fans, and plays a key role in support of the SJU varsity programs, intramurals and club sports. St. John's is a private liberal arts college for men located in Collegeville, Minn.
###