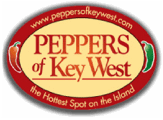 "Experiencing hot sauces should be fun, whether in our store or back home."
Key West, Florida (PRWEB) November 22, 2011
Pete Legrady, the proprietor of Peppers of Key West has officially launched his new online store at http://www.peppersofkeywest.com. Over the past several months, Legrady and his team have been implementing industry leading platform upgrades to improve the online shopping experience of customers. The culmination of which is the launch of the new Peppers of Key West online store. Although Legrady had an online presence already, Legrady says, "This new platform and content improvements will greatly improve the user experience."
"People love our store in Key West and we wanted to carry that same feeling over to the web as best we could. In addition to an improved shopping experience, we now have a live webcam that is focused on the most popular part of our store- the hot sauce tasting bar," Legrady explained. "Experiencing hot sauces should be fun, whether here in our store or back at home. It's more than just the hot sauce, it's an experience and we aim to spread that experience."
Over the coming weeks, Legrady says there will be even more improvements including a searchable recipe database and tips on specific sauces which will be located on his companion site http://www.peppercentral.com which is where the live webcam feed can be accessed.
About Peppers of Key West: Peppers of Key West sells food and lifestyle related products associated with hot sauces, pepper sauces, and gourmet culinary sauces. The store is located in downtown Key West, Florida and offers a free sauce tasting bar where customers are offered the opportunity to sample sauces from mild and fruity to extremely hot. Peppers of Key West offers a wide variety of hot sauce products from around the world.
###