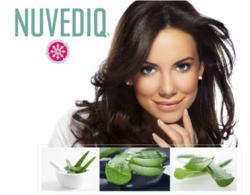 A complexion that is consistently nourished becomes stronger; it will function better and therefore show it's age with resistance.
Toronto, Ontario, Canada (PRWEB) November 22, 2011
What do busy moms, globetrotters, students, professionals, entrepreneurs, outdoor enthusiasts ... all have in common? A never-ending list of reasons why they have no time and high stress levels, ring a bell? Believe it or not, these factors are major culprits of potential skin challenges. The cumulative multi-function of NUVEDIQ® products insures a perfect cutaneous diet which helps to delay the signs of aging and reveal a radiant complexion, 24 hours a day.
For instance, take the high performance, Niacinimide-rich Pro'vedyl Complexion Masque, it can be optimized as 1. Masque 2. Face serum or light fluid lotion 3. Under serum booster 4. Intensive hand treatment
Behind the beauty line

Leila Bates, Founder and Creative Director
With an immense passion and education in Skincare and Personal brand management, Leila Bates knows what it takes to make gals look and feel fabulous.
A beauty maven, she understands, for all skin types, the challenge is controlled exfoliation, hydration, softness and anti-aging.
2008 - Leila's journey into professional makeup artistry was cut short when she grew frustrated working on dehydrated, rough textured and unresponsive skin. Not only did it scream neglect, it accentuated skin imperfections; the antithesis of a smooth and radiant complexion. This did not sit well with her. Through engaging and listening to her models, it became clear that lack of the time, inconsistent beauty regiment and insufficient knowledge to truly care for their skin were the culprits. She needed to take action, several months later...NUVEDIQ® was born; Multi-action solutions for busy beauties. That simple.
Behind the product line

Integrating Aloe vera with only the highest quality of cutting edge actives, collagen boosting peptides, thirst quenching hydrators, amino acids and precious flowers; these high –power superfoods help to minimize damage caused by time, sun exposure, depleting winters, daily abuse, and harsh chemicals endured by our skin.
Packed with flavonoids, fortifying botanicals, essential vitamins and supercharged antioxidants, the Pro'vedyl anti-aging complexion system helps fight collagen depleting free radicals.
To help renew dull skin, retinoid and alpha-hydroxy acids work to even out skin tone, restore brightness and speed gentle exfoliation, all without changing the structure of the skin.
NUVEDIQ® has created a truly effective line of interactive products that offer professional benefits for both skin-savvy professionals and consumers, alike. Several years of intensive research and development were required to bring these amazing products to market and after extensive work, NUVEDIQ® has with much anticipation revealed a line of products that are designed to respect skin, respect time and respect the environment with realistic and easy to use solutions.
It is the company's aim is to empower, inspire and educate people with positive beauty care, practical tips and techniques that are easy to understand and do at home. What makes NUVEDIQ® products so great is the multi-purpose benefits no matter the day or season, the perfect companion for a busy mom, globe trotter or outdoor enthusiast.
Behind the quality

Yes, Pro'vedyl complexion system is manufactured in a green energy-neutral company that uses renewable energy IE. wind, solar or other -green- energy sources.
Yes, Pro'vedyl complexion system is manufactured and packaged in North America.
Yes, Pro'vedyl complexion system is manufactured in FDA Registered, USDA Organic Certified, *Vegan Certified Facility.
Yes, Pro'vedyl complexion system is manufactured in a facility with the highest standard of quality control, in compliance with current Good Manufacturing Practices(cGMP).
Behind the ingredients

NUVEDIQ® has a zero tolerance policy for the not so nice
No Parabens (Methyl, Butyl, Ethyl, Propyl)
No Phthalates
No Mineral oil (Petroleum by-product)
No Synthetic fragrance / parfum
No Isopropyl myristate
No Propylene glycol
No Butylene glycol
No Peg (Polyethylene glycol)
No Acrylates/Crosspolymer/Silicone
No Dmdm Hydantoin & Urea (Imidazolidinyl)
No Sulfates (sls and sles)
No Chlorine
No Coal tar (FD&C Color & Pigments)
No Hydroquinone (skin bleaching )
No dea (Diethanolamine)
No mea (Monoethanolamine)
No tea (Triethanolamine)
No Dioxin (triclosan, PEGs and ethoxylated cleansers)
No Sunscreen chemicals: Avobenzone, benzphenone, ethoxycinnamate, PABA
No Animal testing
To learn more, visit NUVEDIQ® at: http://www.nuvediq.com
Questions or comments?
Contact NUVEDIQ®: customercare(at)nuvediq(dot)com
1.888.YES-NUVEDIQ [ 937.6883 ]
1.647.286.5300
For newsworthy droplets...sign up for the online newsletter.
Our products are available through: http://www.NUVEDIQ.COM.
Inquire about NUVEDIQ®'s referral program.
# # #