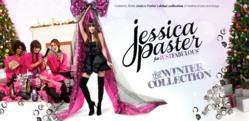 El Segundo, CA (PRWEB) November 22, 2011
Just in time for the festive season, the Jessica Paster for JustFabulous holiday collection hit the virtual shelves on JustFab.com last week. Celebrity stylist, Jessica Paster's debut collection includes shoes and handbags in a variety of styles and colors to top off any outfit. Shoes range from stunning heels with jeweled accents to a shimmering gold flat and a show-stopping black over the knee boot that is perfect for New Year's Eve celebrations. The collection also includes unique rhinestone-encrusted and hard-cased evening clutches.
Since joining JustFabulous as Chief Stylist in April 2011, this is Paster's first namesake collection with the brand. Her styling expertise and red carpet flair is reflected throughout the celeb-worthy assortment and is already at the forefront of Hollywood style. Celebrities such as Hilary Duff, Rebecca Romijn, Marcia Cross, Mia Maestro and Emily Blunt have been spotted wearing Jessica Paster for JustFabulous on the red carpet.
"I'm so excited to launch my first collection with JustFabulous," says Jessica Paster, Chief Stylist for the site, "with the right combination of sparkle, velvet and satin, my line is perfect for the holiday season or for any woman who wants a little extra glamour in her life!"
Available November 16th through January 2012, the capsule collection retails at $39.95 for JustFabulous members (Angelina thigh-high boot, $49.95).
About JustFabulous
JustFabulous (http://www.JustFab.com) is an online fashion styling service and lifestyle fashion brand that offers members a fun and engaging personalized shopping experience. Members of the fashion subscription service are given the celebrity treatment every month as they receive a customized selection of shoes and handbags, handpicked by personal stylists, along with the JustFabulous essentials including denim and sunglasses. Members have exclusive access to fashion tips and content, clickable style boards to shop complete outfits and the team of JustFabulous fashion consultants for expert advice. At mostly $39.95 an item, JustFabulous offers high-fashion looks off the runways at affordable prices and shipping is always free.
About Jessica Paster
Jessica Paster is considered one of the most versatile celebrity stylists in the business: she moves easily and enthusiastically between the film, commercial, advertising, and editorial worlds and has significant experience in each. This is due in part to her strong work ethic and positive energy in addition to her love for styling as a popular art form. Jessica understands that the boundaries that contain the fashion world are unfixed and always changing, and it excites her to no end that the possibilities are limitless. Jessica Paster is JustFabulous' Chief Stylist.
###