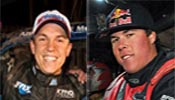 Ensenada, Baja California, Mexico (PRWEB) November 21, 2011
KMC Wheels sponsored drivers Andy McMillin and Bryce Menzies shook up the 2011 Baja 1000 with aggressive performances, earning them both winning positions within one of desert racings most popular events. Showcasing over 278 racers, the Baja 1000 is one of the oldest and most well-known desert races, and running it remains an appealing accomplishment to racers around the world. This years 44h running of the Baja 1000 had plenty of excitement and thrills, with two of KMC's showcased drivers staking some serious ground.
KMC's Andy McMillin, accompanied by his father Scott McMillin earned the overall four-wheel win and Trophy Truck victory with a time of 14:51:36 (hours, minutes, seconds), holding off the first Trophy Truck team of Nick Vanderwey. The race, which included a to-the-finish battle between the top thee trophy trucks was a close one, with the McMillins edging out Nick and Larry Vanderwey by a mere minute and 35 seconds.
Scoring even more prestige for KMC Wheels was Bryce Menzies who, while finishing third behind the McMillins and Vanderweys, earned the SCORE Trophy Truck Championship for the 2011 season. Bryce drove the majority of the race before being replaced by fellow Redbull/Menzies driver Ricky Johnson. Co-driver Pete Mortensen remained in the truck the entire race. Menzies and Johnson finished 2 minutes, 27 seconds behind Vanderwey.
Rhett Sander, Marketing Director for KMC Wheels, congratulated both riders on their wins and was thrilled to have such a strong showing. "The Baja 1000 has been such a large part of the history of KMC Wheels. To have both Andy and Bryce come through and secure some big wins means a great deal to us. Congratulations to them both, they ran hard and it paid off."
KMC Wheels provides some of the most sought after styles and designs to both the wheel industry and the racing community. Their XD series wheels have been tested and raced by sponsored teams at some of the most demanding off-road races in the world such as the SCORE Baja 1000, LOORS and the TORC Series. KMC Wheels, located in Cerritos, California, is a proud sponsor of drivers such as Carl Renezeder, Travis Pastrana, Cameron Steele, Ricky Johnson, Robbie Maddison and this years winners, Andy McMillan and Bryce Menzies.
For more information on KMC Wheels, please visit http://www.kmcwheels.com to find your nearest KMC Wheels dealer. Make sure to also follow KMC Wheels on Facebook and Twitter.
###