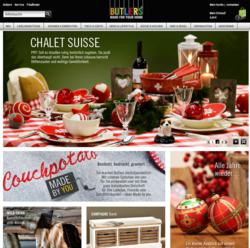 With Demandware, Butlers has the right solution both to launch ecommerce sites quickly and deliver highly-branded shopping experiences into its new regions.
Burlington, MA (PRWEB) November 30, 2011
Demandware®, Inc., a leader in on-demand ecommerce, today announced that German homeware retailer, Butlers, has selected the Demandware Commerce platform as the foundation for its global ecommerce initiatives. The first Butlers sites, implemented by Demandware partner Javengo and launched in September, includes Germany (http://www.butlers.de) and Austria (http://www.Butlers.at). Based in Cologne, Germany, Butlers is a leading retailer of home accessories, decor, furniture and gifts with more than 150 outlets in Germany and abroad.
To execute its growth strategy without the constraints imposed by its legacy software-based platform, Butlers required a new solution that could support its multi-site, global deployments and provide central, unified management over an array of unique individual country sites. Demandware's on-demand model perfectly fits this requirement while eliminating the need to source and maintain a costly IT infrastructure. Demandware also provides Butlers with seamless, automatic upgrades containing new functionality to enable continuous site innovation.
"Our top priority is to provide our customers with a great shopping experience," said Jörg Arndt, managing director at Butlers. "With the launch of our new ecommerce sites in Germany and Austria, our goal is to improve performance and scalability so that we can make our online shops faster, more efficient and user friendly. The Demandware implementation has been excellent so far."
Leveraging the flexibility of Demandware's platform, Butlers has made several enhancements to its sites to increase customer satisfaction and provide a better shopping experience. For example, should an item be out of stock, a new "quick-order system" allows the staff in the store to place an order and have the product sent directly to the customer with the click of a mouse. Further enhancements include a custom configurator which enables customers to personalize items with ease, taking the Butlers' "Made for Your Home" philosophy to a new level.
"Like many of Demandware's clients Butlers is growing fast and required a platform that could quickly and easily scale to support its global strategy," said Jamus Driscoll, senior vice president of marketing for Demandware. "With Demandware, Butlers has the right solution both to launch ecommerce sites quickly and deliver highly-branded shopping experiences into its new regions. We're delighted to be working with the Butlers team on their global ecommerce initiatives."
About Butlers
BUTLERS GmbH & Co KG is a German retail company which sells home accessories, decorative items, furniture and gifts at more than 150 stores both in Germany and abroad. Butlers employs around 650 people, and welcomes more than 30 million visitors worldwide to its stores each year. In line with the slogan "Made for Your Home", the cult brand from Cologne offers a constantly changing range of around 3,000 products.
About Demandware
Demandware is a leading provider of software-as-a-service (SaaS) ecommerce solutions that enable companies to easily design, implement and manage their own customized ecommerce sites, including websites, mobile applications and other digital storefronts. Customers use our highly scalable and integrated Demandware Commerce platform to more easily launch and manage multiple ecommerce sites, initiate marketing campaigns more quickly, and improve ecommerce traffic. For more information about Demandware, visit http://www.demandware.com, call 888-553-9216 or email info (at) demandware (dot) com.
Demandware is a registered trademark of Demandware, Inc.
Media Contact:
Christine Major
Corporate Communications Manager, Demandware
Office: 781-425-1228 Mobile: 603-743-4534
Email: cmajor (at) demandware (dot) com
###