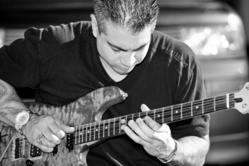 I cut thru all the confusion of approaching the guitar. I give you the tools you need to have fun and start jamming right away with songs you want to play, while at the same time teaching you the fundamental principles of the instrument
Fort lauderdale, Florida (PRWEB) November 22, 2011
Dyce Kimura is a consummate musician, known as a guitar teacher whose students get great results. He's equally adept at teaching adults the great rock classics they grew up with, and showing kids the latest top 40 tracks they have in rotation on their iPods. Today, Dyce is proud to announce that he is introducing custom-tailored lessons—that allow students to progress at their own pace.
These new custom-tailored plans dovetail naturally with Dyce's caring, patient approach to teaching. Dyce works very hard to make his students feel comfortable—for example, giving them as much time as they need to digest a particular musical concept at hand. Dyce has learned, over two decades of playing and teaching professionally, when to push students—and when to stay out of the way. This sort of expert guidance helps students flourish, because they learn music on their own terms. In fact, Dyce's Fort Lauderdale guitar lessons, offer the optimal balance of allowing students to progress at their own pace—all while following a thought-out, proven teaching approach led by a great teacher.
Dyce's new custom-tailored lessons are based on a recent realization. "I know that all of my students are unique, both as people, and as musicians," Dyce states, "so I realized that my lessons should celebrate these differences." Instead of following a rigid, "cookie-cutter" approach to teaching, he makes allowances for these differences, and custom tailors a lesson plan that enriches their musical tastes, goals, and strengths. The end result: students learn to play faster with Dyce than they would with most other teachers. In short, Dyce's Fort Lauderdale guitar lessons are both grounded in theory, and emphasize soul.
Dyce is a Fort Lauderdale guitar instructor provides a stress-free environment for students. For example, he never hands his students a stack of papers and says, "Learn this." Instead, everything that students learn has its own purpose—and is explained clearly in a lesson. Never "theory for theory's sake": instead, it's music first. Additionally, all lessons are taught in the comfort of Dyce's state-of-the-art music studio, which is conveniently located in Fort Lauderdale and within a short ride of the entire greater Miami area.
While these new custom-tailored lessons allow students to concentrate on the music that interests them—Dyce's expert hand ensures that each lesson flows logically to the next. Students learn the guitar the right way, building on concepts, reinforcing their knowledge, building confidence—and most importantly—having fun! Dyce's students learn how to play the guitar like the pros do, right from their very first lesson, no matter what style of music they are learning!
For more information on Dyce's new custom-tailored Fort Lauderdale guitar instruction, contact Dyce directly at dyce(at)dycekimura(dot)com, or 786-457-3687.
###