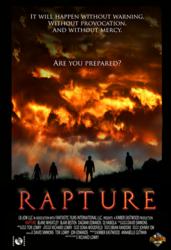 Pasadena, CA (PRWEB) November 22, 2011
A Christian Crowd funding website 1and700.com based in Pasadena, California launched the world's first Christian based crowd funding website has posted two new Christian film projects to fund. A featured project is Rapture A Kimber Eastwood Production, the storyline is: a compelling tale of a group of people encountering their quest to find the Lord and their final destination. All focusing on the heavenly afterlife and the hope of mankind in the end time.
A Kimber Eastwood Production has a letter of intent from Rocky Mountain Pictures, a theatrical distributor who is interested in putting the film into theaters and needing $500k to make it happen. Marketing will be done by Dick Delson who did "Left Behind" to create excitement for the film, the ideal time to release it would be September or October of 2012. The project link is:http://www.1and700.com/with/Rapture
The second film project is Chariots at the Gate: Eric Liddell is about finding awe in the darkest of places. It is a story of love, bravery and sacrifice. A story about someone who felt God's heartbeat and through unquestioning faith walked in His Love.
This film is seeking to raise funds for production cost and worldwide distribution. The project link is:http://www.1and700.com/with/Chariots-at-the-Gate-Eric-Liddell
1and700.com was created by Christian missionaries to reclaim the 7 mountains of society by using the innovation of crowd funding in the Christian Community. "1" stands for God's Kingdom and "700" stands for 7 mountains of society. 1and700.com aims to bring God's Kingdom to 7 mountains, building heaven on the earth. 1and700 will help Christian to make the mandates OF Loving each other a reality by providing funding and resources. The message 1and700 is to deliver is: "United by love; reclaiming the 7 mountains". Christian community is filled with Godly people with great ideas that can make a difference in the world. Making those faith based ideas a reality is not always easy and Christian crowd funding allows people to create real-world projects with a global impact. The main reasons why faith-based projects never come to fruition is lack of funding and exposure, but with the love donation of the Christian community around the world, anything is possible. 1and700.com helps people to create a fundraising campaign for project ideas fast and helps spreading the word out to the Christian community.
"The Happiest People on Earth" A fast-paced, reality TV program "Life in the FGBMFI - The Happiest People on Earth" This is a show about Full Gospel Businessmen Fellowship International leader Richard Shakarian and international directors witnessing the life-changing stories of Christian leaders in today's marketplace.
The TV show is seeking to raise funds for production cost and worldwide distribution. The project link is: http://www.1and700.com/with/United-with-Love
1and700.com presents a new online community and business model for funding Christian faith based projects. The site explains that backers support projects for two primary reasons: rewards and stories.
About The Manna For All Foundation:
Manna is the food that a loving God provides for his people. The Manna For All Foundation is an organization dedicated in connecting global Christians and foster love on earth. Through crowd-funding initiatives and technology platforms, The Manna for all Foundation provides 'manna' to all who are lacking from spiritual famine and financial poverty in the Christan communities.
The Manna for all Foundation will defeat hatred by bringing love to this world. If each of us contribute a little, the world will be full of love. 1and700.com is the first project the foundation initiated. The Manna for all Foundation's second project is "SOLOMO" mobile application, a location-based mobile phone app that connects global Christians together through real-time position tracking. Download the mobile app here: http://itunes.apple.com/us/app/id477077861?mt=8
When people of Faith are connected and united through our technology initiatives, the foundation will advance God's territory by affecting the seven spheres, or mountains of society; business, government, media, arts/entertainment, education, family and religion.
###