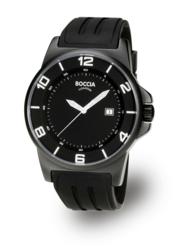 With the holiday season approaching, this is the perfect time to give away a Boccia Titanium Watch to one of our loyal fans
Las Vegas, Nevada (PRWEB) November 22, 2011
Titanium jewelry makers, Boccia, has launched a contest driven by Facebook to win a titanium watch valued at $175. The contest is going on now and will continue announcing weekly winners until Black Friday.
"With the holiday season approaching, this is the perfect time to give away a Boccia Titanium Watch to one of our loyal fans," says Nadine Kluger, Marketing Director at Boccia Titanium. "Our Boccia Titanium Watch, style 3535-02 has won many accolades for its distinctive design and style. It would also be a perfect gift for anyone. The Boccia model 3535-02 has become so popular that it is the best-selling watch ever in the company's history, selling over 8,000 pieces of just this one style of men's watches."
To become eligible for Boccia's Titanium Watch sweepstakes, you must become a Fan of Boccia on Facebook. Specific rules of the contest are currently posted on Boccia's Fan Page. One winner will be selected based on the rules of voting and announced on the official Boccia Fan Page each Friday until Black Friday.
Boccia Titanium products are made of top quality pure titanium by international designers that are continuously coming up with new shapes and designs. This ultra-light, corrosion and temperature resistant material compliment's the brand's ability to create their coveted high-fashion look. So it comes as no surprise that Boccia has recently been voted the Watch Brand of the Year for the seventh consecutive year in Germany.
"The Boccia Titanium Watch Sweepstakes" is the first social media contest launched by Boccia Titanium. The brand is always looking for ways to stay connected to the community and also give people a chance to discuss their products as well as stay abreast of what their customers are interested in.
To become a fan of Boccia Titanium's Facebook page and learn more about their current contests, promotions, and communicate with other fans, please "like" them today at http://www.facebook.com/pages/Boccia/10150133698680531.
About Boccia Titanium:
Boccia Titanium is made from 100% pure titanium, a particularly high class metal with a number of positive properties: it is extremely strong, hypoallergenic, absolutely skin-friendly and antimagnetic. It is also corrosion and temperature resistant and very light, making it the ideal material for up-market products, which are designed to last.
Media Contact:
Nadine Kluger
800-360-2586
nadine(at)teno(dot)com
http://www.boccia.com
# # #