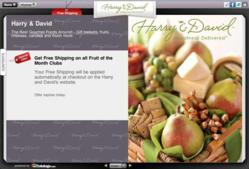 "The Catalogs.com app meets the needs of shoppers as well as the branding and product marketing objectives of diverse retailers." Richard Linevsky
Fort Lauderdale, FL (PRWEB) November 22, 2011
Ready for Cyber Monday, Catalogs.com has unveiled the new version of its popular digital catalog portal. The one-year-old site, Catalogs.com for iPad, found at http://shop.catalogs.com, hosts a burgeoning selection of name brand and specialty catalogs. Catalogs.com for iPad has also become one of the top downloaded shopping apps for the iPad at Apple's iTunes store.
The re-designed portal is the Catalogs.com response to outstanding user demand for additional features and expanded store selection. The collection of digital catalogs has expanded from two dozen to a diverse and growing collection of more than one hundred titles.
Catalogs.com for iPad leverages its own patent pending feed-based technology so retailers can create a slick, desktop or iPad friendly digital catalog without using PDF-conversions of print catalog pages, expensive revisions or updates. The digital catalog feed can be easily updated or changed at any time by the merchant and can feature as few as 100 products to as many as 3,000. Users are able to casually page through full catalogs for thousands of holiday gift ideas. They can also narrow their focus using product categories, or by tapping related products which are automatically generated based on the users' interests.
"The original version of Catalogs.com for iPad was the product of hundreds of hours of brainstorming, programming, focus groups and testing," says Richard Linevsky, president of Catalogs.com. "On the web, change is the only constant. As soon as the first version of Catalogs.com for iPad went live, both consumer demand and the incredible response from retailers inspired us to create and implement improved usability solutions that are both elegant and flexible."
"Our challenge has been to meet the needs of shoppers as well as the branding and product marketing objectives of a wide variety of stores – including major retailers like Lucky Brand, Things Remembered, Foot Locker, Lenox, Coors, Harry & David and bebe, to specialty retailers like Calendars.com, Old Time Candy and Sun & Ski Sports," Linevsky says. "In addition to desktop users, Catalogs.com for iPad appeals to millions of iPad shoppers – we have to keep pace with an increasingly sophisticated user who expects brilliant visuals, social sharing, detailed information and touch screen functionality."
About Catalogs.com
Since 1996, shoppers have universally recognized Catalogs.com as a trusted premier shopping service, attracting more than 1,100,000 unique visitors each month. The comprehensive Catalogs.com website, newly launched Catalogs.com for iPad and Catalogs.com online catalogs feature over 740 major and specialty retailers and provide shopping access via web, iPad and mobile phone platforms.
###