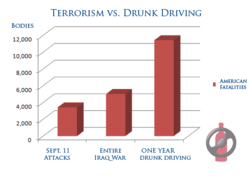 If EVERY PERSON that reads this press release gives $10 or even $20, it could potentially provide the program with multi-year sustainability. Wouldn't that be a TRUE BLESSING for every Community!
Waldorf, MD (PRWEB) November 23, 2011
Headline Source: Terrorism Vs. Drinking and Driving
The Holiday Season is upon us, and as merry and jolly as one may feel, is any community truly safe? According to data from the National Highway Traffic and Safety Agency, the number of deaths from drunk driving crashes during the Christmas and New Year's holiday are significantly higher than those during the rest of the year. (Peters, Mary. E., U.S. Transportation Secretary) (1105 Media, Inc. Retrieved on November 22, 2011) The new program plans to spread the news on this important data, among many other initiatives.
Why then, wouldn't any organization protect their valuable resources (key executives, board members, advisory staff, employees and top sales staff) by supporting a Designated Driver program? Would an employee membership as an employee benefit be of value to both the organization and the employee?
Why wouldn't the news media find a rapidly growing, National, non-profit, designated driver program to be of importance enough to broadcast?
Why wouldn't any national bar/restaurant (family-owned or chain) find this service as an important ASSET to limiting liability?
Why wouldn't every parent, regardless of child age, find the gift of a Safe Ride Home to be a valuable Holiday gift? A parent may consider engaging their young children in a Santa exchange of Safe Ride gift certificates, allowing the child to [give] the gift for the Holiday. Children should be aware of the dangers of alcohol-impaired driving so as to increase parental values and teach their children well. As it relates to this news release, the cohesiveness of the war on terrorism vs. that of drunk driving could virally change safety for future generations.
Executives, constituents, and support groups, have broadcast this program from the highest towers in all four regions of the US. The truth is, the organization [should] be receiving support from peers, businesses, restaurants, insurance agents/firms, and the media from across the United States, to include Federal and State Governments. As stated in a prior news article, the Program was modeled after NHTSA's State Grants Safety initiatives.
"Many non-profit organizations have an uphill battle as they compete with other non-profit organizations for sponsorships and grants, the Will Be D.D. Program is no different." ~ Seanna Smallwood, President, Will Be Designated Driver, Inc.
Like anything [new], valuable services such as, insurance, legal, accounting, marketing support, and even the Internet in the 90's, consumers need to see the value of the features and benefits prior to supporting the product/service or charity.
Like a Life Insurance policy, does one want to experience the death of a loved-one prior to its purchase? DUI/DWI charges and sanctions can ruin lives. Programs like Will Be D.D. are faced with necessary expenses to ensure public awareness and effective presentation of the facts, potential disasters, and new consumer options. These tasks must be paid for possibly prior to realizing the benefits.
Should any organization actively participate in philanthropy and investments please have the grant-maker contact Seanna Smallwood, President, for more information on the program's grant model.
One may also show support in the program by sending this news release to a decision-maker in an organization of choice, an endorsement of support. The program offers excellent marketing support in giving thanks to Sponsors at any level.
"We are very proud to share that since Program launch, June, 2011, Will Be D.D. Program drivers have successfully removed 362 alcohol impaired drivers from the roadways." ~ Jim Will, Vice President, Will Be Designated Driver, Inc.
With that said, the Holidays are here and it goes without saying that it takes great people to support Life-Saving programs like that of Will Be D.D.
Please give today, even if its just $10 ... If every person that reads this press release gives $10 or even $20, it could potentially provide the program with multi-year sustainability. Wouldn't that be a true blessing for every community this Holiday Season?
America's hard-earned money goes to fund expenses for the Designated Driver Program such as, promotional expenses (spreading the word with T-Shirts, Key Chains, Alcohol-Breathalizers, Billoard ads, etc), gas, personnel wages, rent, vehicle insurance coverage, utilities, internet, website maintenance and development, the development of the Smart Phone app (which is almost done!) And several other necessary expenses.
Please support the Will Be DD Program by making your generous donation.
For more information or to request a program budget, contact:
Seanna Smallwood, President
Will Be Designated Driver, Inc.
Dispatch: 877 736 3490
Cell: 301 399 3764
###