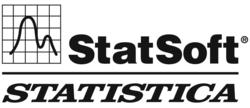 We are excited to be recognized in the field of predictive analytics / data mining. Rexer Analytics' survey is unique as the largest, global survey of its kind, with feedback from analysts doing "real work." Tom Hill, Vice President of Analytics
Tulsa, OK (PRWEB) November 21, 2011
Preview highlights from the annual Data Miner Survey was recently released from Rexer Analytics at the 2011 Predictive Analytics World conference. For the second year in a row, StatSoft and its STATISTICA product line comes out the victor as the primary data mining tool used by practitioners. The Rexer Analytics Survey is the largest of its kind, surveying 1,319 data miners from 60 countries. The survey covers analytic techniques and tools used in data mining practice, types of data analyzed, and challenges encountered.
StatSoft's flagship product, STATISTICA, was ranked as the primary data mining tool overall, as well as in the subgroups of "Corporate", "Consultant" and "Government/NGO" data miners. About 80% of STATISTICA users report that they will continue using this tool over the next three years compared to 38-58% of users for SAS, SPSS Statistics, SPSS Modeler, and SAS Enterprise Miner and only 22% of Weka users.
STATISTICA also received the highest satisfaction ratings: STATISTICA was also mentioned as a popular interface to the R software package.
About StatSoft:
StatSoft, Inc., founded in 1984, is one of the largest global provider of analytic solutions with offices in 30 countries worldwide. StatSoft's flagship product, STATISTICA, is the enterprise predictive analytics platform for deploying analytic applications across departments, sites, and organizations.
###