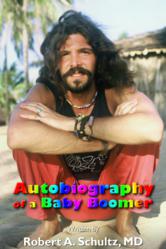 After receiving a bachelor degree from Hamilton College in 1969 I took my first trip abroad (and, on the Balearic Islands off the coast of Spain, fell in love with a bewitching French girl with a heroin habit) that made my first year at medical school…
Raleigh, North Carolina (PRWEB) November 22, 2011
Autobiography of a Baby Boomer is a new book written by Robert A. Schultz M.D. who chronicles his adventures through the enchanting era unique to 80 million Baby Boomers.
In Autobiography of a Baby Boomer you will join Schultz on a trip from "Father Knows Best" middle class Fair Lawn, New Jersey to the hippy trail through Europe, North Africa, the Middle East and Asia. The overland journey in search of something more than he could find at Cornell University Medical College covers four years during a time when "dropping out", "turning on" and "free-love" were the gospel.
The times, his travels, the drugs, the séances, the very far-out "Road People", Bobby Deleon (the Filipino faith healer with whom he apprenticed in a squatters area outside of Manila for six months), Bill Daut (his psychic medium guru in Paterson, NJ), Dr. John Marshall (whose persona inspired him to specialize in orthopaedic surgery; and seek residency at Harvard, no less), and his parents' unremitting love paved the way for him to truly appreciate the American way of life. They brought him to the joy of having a family and the awesome responsibility that comes with it.
To borrow a line from the 1958-1963 hit TV series, "There are eight million stories in 'The Naked City'. This is just one of them." But this is the story of eighty million Baby Boomers and it will be of interest to even those not born between 1946 and 1957 (statistically the time period of the post-war baby boom). The era and medical profession are the heroes about which he writes; but there is even some provocative name dropping for those tantalized by the past of present day news-makers.
Book Quote - Part One: Twelve Days in Hell and the sanctuary of my mind
"Germany was one thing; Turkey another; but this absolutely freaks me out. The 9x12 foot cell (I have plenty of time to get exact measurements) is entirely empty with the exception of two emaciated Afghan prisoners sitting comfortably on their haunches, obnoxiously amused at my inability to assume their pose. The slime all over the floor and walls of this putrid box prohibits sitting or leaning like the westerner I am. A faucet, no more than a foot off the ground near a hole for defecating, is encrusted with mold and is the only structure, besides the hole and door, which change the monotonous rectangular dimensions of this shithole. My fellow cell mates most certainly do not speak English and are unnervingly content to communicate their excitement through constant eye gaze. I am their new entertainment and am thoroughly screwed!"
So begins Autobiography of a Baby Boomer.
Now available for iPad, Kindle and Nook. It can also be purchased as a paperback through CafePress. To learn more, visit my website, http://www.autobiographyofababyboomer.com.
###