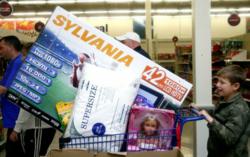 ...the YMCA is offering childcare starting at 6am and at a great deal for parents starting at only $15 per child for four hours, Armstrong adds.
Tulsa, Ok (PRWEB) November 22, 2011
Shopping and young children are usually not a good combination, but with school on holiday break and Black Friday deals to be had, many parents feel they are left with no other option. Not only can Black Friday shopping be dangerous as hundreds of eager bargain shoppers charge through store doors, heading out in early morning hours and cold temperatures poses risks to young children as well. However, finding a babysitter at 6am, who may also be heading out to score an LCD TV at half price, may be next to impossible for many parents.
Sitter Pals' President and mother of two, Amanda Armstrong, says there are local options available for parents to access affordable child care the day after Thanksgiving. "One of the best places to check with first is your local YMCA," Armstrong explains. "In several communities, the YMCA is offering "Drop and Shop" childcare starting at 6am and at a great deal for parents starting at only $15 per child for four hours," Armstrong adds. Additional options for child care on Black Friday include local churches and public libraries, some of which are providing meals or snacks and activities for the children either free of charge or as low as $5 per hour. Parents who register early are likely to secure trusted child care for their children at a deep discount from hiring a babysitter, all while enjoying the hot deals of Black Friday.
If parents are not able to locate community child care options in their area, trading shopping times between family members ensures children stay safe at home during the busiest shopping hours. Additionally, parents can hire their trusted babysitter to spend the night, instead of waking them for the midnight opening at Wal-Mart this year.
About Sitter Pals
Sitter Pals launched in April 2011 as a nationwide secure social network of parents, their close friends, and the sitters they know, trust, and hire. The process of finding and booking a trusted sitter is transformed by the automation built into Sitter Pals, allowing both parents and sitters to effectively manage babysitting jobs in real time.
###