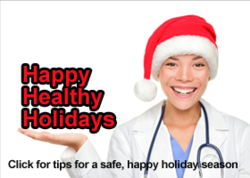 Youngstown, Ohio (PRWEB) November 22, 2011
With the holiday season upon us, things can get hectic. To help you make your holidays happy and healthy, Humility of Mary Health Partners (HMHP) has created Happy Healthy Holidays, a web-based data center for tips and tricks for staying healthy this time of year.
HMHP's Happy Healthy Holidays starts with helpful Thanksgiving day tips including food safety information, tips on enjoying the holidays without derailing your diet plans, and helpful printables to keep on hand.
Like HMHP on Facebook or follow-us on Twitter for helpful hints throughout the holiday season. Check in out now at http://www.HMpartners.org.
###