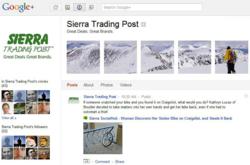 "By creating a Google+ Page and engaging with our customers, we have another fantastic avenue in which to interact with our fans and spread the word about our great deals and great brands," says Beren Goguen, Blog and Community specialist
Cheyenne, WY (PRWEB) November 22, 2011
Sierra Trading Post, a top 100 online retailer, is pleased to announce its first-ever Google+ Page.
Always looking for new ways to stay in touch with customers, Sierra Trading Post has worked hard throughout the past several years to develop an active presence on popular social media sites like Facebook and Twitter. As part of an ongoing effort to provide the best possible customer experience, Sierra Trading Post has now joined the Google+ community.
"We strongly believe social media is an important tool for developing lasting connections with our customers," says Gary Imig, president of Sierra Trading Post. "Google+ is an exciting new platform. I'm happy to see that we are among the first companies to create a brand page."
Launched in June of 2011, Google+ provides an online venue similar to Facebook, where people can connect, chat, share links, and upload photos and video. To date, Google+ hosts 40 million users and is growing rapidly. Initially, brands were excluded from participating, but that changed on Nov. 7 with the launch of Google+ Pages for businesses.
"By creating a Google+ Page and engaging with our customers, we have another fantastic avenue in which to interact with our fans and spread the word about our great deals and great brands," says Beren Goguen, Blog and Community specialist at Sierra Trading Post. "Keeping our company visible on the social web and sharing great content with our fans is how we stay top of mind in a market increasingly driven by an interconnected online community."
About Sierra Trading Post:
Headquartered in Cheyenne, Wyo., Sierra Trading Post is a multichannel retailer known nationwide for offering "Great Deals. Great Brands." Sierra Trading Post purchases brand name overstocks, closeouts and 2nds, and offers customers 35-70% savings every day. Founded in 1986, Sierra Trading Post is celebrating its 25th anniversary. Throughout its history, the family-owned company has saved customers more than $3 billion on outdoor gear, shoes, men's clothing, women's clothing, accessories and home furnishings. A top 100 Internet retailer in sales per Internet Retailer Magazine, Sierra Trading Post operates four outlet stores in Boise, Idaho; Reno, Nev.; Cheyenne and Cody, Wyo.; with customer service call centers in Cheyenne and Cody.
###