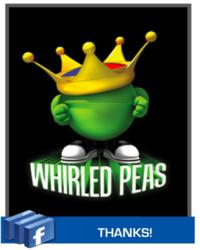 Best Pictures Win!
Savannah, Georgia (PRWEB) November 22, 2011
The Peaking is the brand ambassador for Whirled Peas The Game and he is always looking for the best parties. In the spirit of the Holidays, the Peaking is in the gift giving mood and your chance to win is as easy as uploading your favorite picture to the Whirled Peas Game Facebook page. Then the week after Thanksgiving 2011, 5 lucky winners will be selected to receive the gift card.
To win the gift card, contestants are asked to upload their family friendly picture to the designated page and the 5 pictures with the most comments will win the cards.
About Whirled Peas Game:
Manufacturer's Description
Whirled Peas® is an infectious, laugh-out-loud-funny and fast-paced party game featuring five unique, creative and often raucous ways of communicating. Average play-time is between 20-30 minutes and is designed for at least 6 players. Whirled Peas is perfect for teens, family game nights, and adult gatherings. Everyone plays every turn, and no one stays sitting down for long. "Welcome to the Party!"
Product Description
In this original party game, 2 teams alternate turns, spinning the Pea-King spinner, determining which of 5 the categories they'll attempt: "Zip Your Lips," "Putty Pal," "Back Tracks," "Clap Trap," or "Sketch Coach." Players are chosen to work together to "communicate" the answer. Teams then furiously race simultaneously to shout the correct answer. Winning Teams receive peas for their team's peapod. The first team to fill their peapod wins! More Info: http://on.fb.me/whirledpeasgame.
###