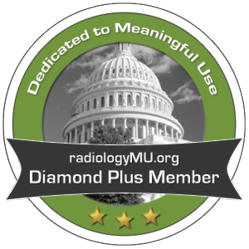 We are pleased to announce our intent to offer a complete Meaningful Use certified RIS solution as soon as early next year
Denver, CO (PRWEB) November 22, 2011
Intelerad Medical Systems, a leader in medical imaging, PACS, RIS and workflow solutions, today announced it has achieved Diamond Plus status in the healthMU Corporate Membership program for Radiology. Intelerad® also announced plans to achieve complete Meaningful Use certification by the end of the first quarter of 2012.
Intelerad recently launched InteleSuite TM, a complete and customizable set of RIS/PACS solutions that combines the KLAS Ambulatory category leader IntelePACS® with Intelerad's new InteleRIS.TM InteleRIS is an agile radiology information solution featuring automated multi-exam scheduling, patient registration, mammography BI-RADS reporting and tracking, voice recognition, electronic technologist worksheets, HL7 administration tools, business analytics and more.
"We are pleased to announce our intent to offer a complete Meaningful Use certified RIS solution as soon as early next year," says Randall Oka, President and Chief Executive Officer of Intelerad. "We want to provide a new RIS alternative that will enable better utilization of resources and productivity gains - but we also believe InteleRIS should help imaging centers achieve their profitability and Meaningful Use objectives."
"Education and strong support from medical imaging leaders such as Intelerad are instrumental to the success of the Meaningful Use program," says Dr. Keith J. Dreyer, Vice Chairman of Radiology Informatics at Massachusetts General Hospital, ACR Informatics Committee Vice Chairman and Government Relations Representative. "By joining the healthMU Corporate Membership program and announcing a complete certification strategy for its new RIS solution, Intelerad demonstrates its understanding of the importance of Meaningful Use for medical imaging in the long-term."
About Intelerad
Intelerad Medical Systems is a leader in distributed radiology, specializing in RIS, PACS and workflow solutions for healthcare organizations. Intelerad solutions increase productivity and streamline workflow by overcoming technical barriers of distributed and complex environments. Intelerad solutions are highly scalable, flexible, and robust, and have a solid reputation for capability, performance and one of the industry's best customer service and support. Intelerad solutions like KLAS category leader IntelePACS® and Frost & Sullivan Healthcare Innovation Award recipient InteleOne® are used in over 800 sites across North America, Oceania and the United Kingdom.
# # #