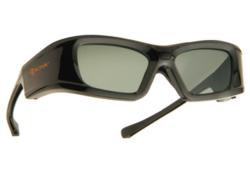 TV Manufacturers know how to make TVs, not 3D eyewear
San Luis Obispo, CA (PRWEB) November 21, 2011
3ACTIVE®, the leading brand of active 3D glasses in the 3D marketplace, expands its 3D product line to offer high-performance, light-weight 3D glasses that are compatible with all the leading 3D TV brands using active 3D technology.
The new 3ACTIVE® glasses will provide unsurpassed comfort and fit to the Samsung® Bluetooth®, Sony®, and Panasonic® 3D TV consumer who wants high-performance 3D glasses at affordable prices with responsive technical support to connect to the 3D world.
3ACTIVE® brand 3D Glasses are designed with the Consumer's comfort and fit in mind.

Lightweight frames and flexible temples allow for good fit and extended viewing comfort.
Our rechargeable 3D Glasses save users money on replacement batteries and make frequent viewing convenient.
Full frames improve your 3D viewing quality by blocking peripheral light.
Free semi hard-shell case/organizer and cleaning cloth keep your 3D glasses ready for action.
3ACTIVE® 3D Glasses are designed to be more than a 3D TV accessory. We have used our many years of eyewear frame design and high-performance optical lens development to build 3D Glasses that improve the 3D TV Consumer's viewing pleasure. Providing quality at an affordable price is the best way to being introduced to the excitement of 3D entertainment.
###