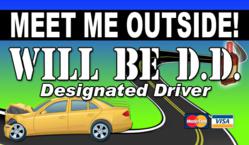 Our hometown has many remarkable bands and we know yours does too! We want to give talented musicians a chance at fame, and if not, it will be fun meeting so many talented musicians!
Waldorf, MD (PRWEB) November 23, 2011
The coast-to-coast search is on - "American Idol"(R) style while raising funds to support the National Designated Driver program, Will Be D.D. (c/o drinkinganddriving.org). That's right!
The ground-breaking program is putting together a National Battle of the Bands to raise funds in support of their program. The goal is to cover all four regions across the U.S. with reputable and/or celebrity judges.
The winner to complete all four competitions in the fund raiser will travel with Will Be D.D. program executives and chapter owners to Fontana, California to perform during a 3k walk against drinking and driving on April 21, 2012. The event will be sponsored by numerous Fortune 1000 companies, their fiscal sponsor, DrinkingandDriving.org, and several record labels for a chance to win a record contract.
Venues, performing artists, and record labels should contact Seanna Smallwood directly at 877-736-3490 with interest in participation no later than close of business on December 15, 2011.
The deadline for completion of all four competitions is April 10, 2012 - as the 3k walk is scheduled for April 21, 2012.
Want your venue involved? Donate your venue for this event and in return for your support, we will prepare a national press release announcing your involvement and like-kind donation. The cost of the donation is 100% tax deductible.
All Venues:
Band Registration Fee: $500
Event Entry Fee at Door: $25 per person
All proceeds from band registrations and event entry fees/door to fund Will Be Designated Driver, Inc. (c/o DrinkingandDriving.org).
Bands may register here. Please note: Please enter band name in lieu of "your name."
To say Thank You to the Sam Grow Band, Will Be Designated Driver, Inc. has Featured a live performance video by Sam Grow Band, Lay You Down.
Warm and safe regards.
# # #