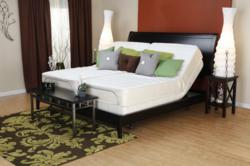 (PRWEB) November 22, 2011
Adjustable beds are quickly redefining what it means to get a good night's rest. Millions of Americans have already traded their motionless innerspring mattresses for a customizable adjustable bed. Adjustabeds.com invites you to join this movement, offering the best value on adjustable bed frames, mattresses, and services available online. Now, with an added 90 Day Free Trial Period, shoppers may rest assured that there has never been a better opportunity to try an adjustable bed!
Adjustabeds.com is proud to offer the largest selection of adjustable bed frames and mattresses by the following leading manufacturers:
Leggett & Platt: Widely known as one of Forbes Most Admired Companies, Leggett & Platt celebrates 125 years of unparalleled expertise in residential furnishings. Adjustabeds.com offers 5 leading styles of Legget & Platt adjustable beds, starting at just $899.
For those who desire uncompromised comfort and ease of use, Adjustabeds.com offers the Leggett & Platt Prodigy. Considered the first ever "smart bed," the Prodigy features cutting edge mobile phone integration and Wi-Fi technology to allow users the convenience of adjusting their bed's settings directly from their smart phone.
Ergomotion: Ergomotion adjustable beds are a well-known industry standard. A family company, Ergomotion was founded by Alain and Kelly Clenet in 2006. Though young relative to the competition, this father and son team represents one of the brightest adjustable bed companies in the world.
Visitors may choose from a tier of Ergomotion adjustable beds that are sure to fit any budget. Starting at just $799, the EroSport model features independent head/foot motion, a nearly silent motor, and a memory foam mattress, making this model a great starting point for those new to moveable mattresses.
Reverie: Reverie adjustable beds are ideal for those who want to make the transition to a moveable mattress but may not be able to afford the latest bells and whistles. Every day, individuals who suffer with sleep apnea, snoring, and a range of other medical conditions turn to Reverie for their first moveable mattress.
Adjustabeds.com offers two adjustable beds by Reverie, each with a unique consumer in mind. The Essential starts at just $799 and is perfect for a first time purchase. Those eager to try an adjustable bed on a slightly larger budget may opt for the higher-end Deluxe model, starting at just $1,299.
Mounting research indicates that elevated sleep may reduce the pains associated with sleep apnea, snoring, acid reflux, and arthritis. Adjustable beds feature whisper-silent electrical motors that elevate the head or feet, allowing users to adjust the exact tilt of their mattress for maximum circulation, stress relief, and comfort. The result: a sound, deep, and restful night's sleep that leaves you feeling pain-free and energized in the morning.
Adjustabeds.com understands that the purchase of adjustable bed frames and mattresses cannot be taken lightly. To make their leading line of moveable mattresses more affordable than ever, Adjustabeds.com offers guaranteed low prices, free shipping, and financing available through GE Capital.
Still not convinced? Adjustabeds.com offers a 90 Day Free Trial Period for those who are hesitant to make the transition to an adjustable bed. Trial offer is effective from the date of purchase, giving shoppers 90 days to try an industry leading adjustable bed in the comfort of their own home. Readers are invited to visit Adjustabeds.com for full promotion details, or call 1-877-535-1159 for live Customer Service support!
# # #