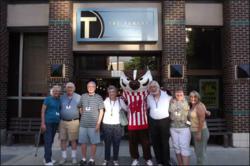 (PRWEB) November 22, 2011
Never heard of Senior Summer School? Well, if you're 55 or over and looking for a new kind of vacation, then you're in for a treat. "Think of it as a kind of land-cruise," says founder Bill Levy. "As a senior, you have a nice place to stay, you're well fed, you have lots of things to do in an interesting, comfortable, attractive environment. It's social, organized, fun and educational."
The Senior Summer School home offices are based in Madison, WI, and it's where it all started in 1985, when Levy, a native of Florida, moved to Madison, WI to manage an apartment building used primarily for UW student housing. Used to the heat and humidity of Florida, the relatively cool Madison summer was refreshing, and it occurred to him that people might want to escape hot, oppressive weather and spend a little time in a more moderate climate. After some research, he also realized that seniors – a significant population of warmer climate areas – appreciated the opportunity to get away for the summer, and liked the idea of "learning vacations." Intrigued by the concept, he set up a business plan and convinced the management company to let him use the building he managed as a base for his first ever "senior education vacation" offering. The rest, as they say, is history.
Today, Senior Summer School has programs from July to September in at least four cities across the country (five this year), and presents engaging, entertaining, and educational events all rolled up into one wonderful, all-expenses-included session.
Last summer, for instance, Madison programs included over thirty eclectic lectures on everything from Frank Lloyd Wright to currents events and Health & Wellness to the History of Rock and Roll. Sightseeing and entertainment included trips to Taliesin, Concerts on the Square, Overture Center for the Arts, the renowned Farmer's Market and a variety of other Madison-area attractions. Each session is planned with a balance of local sights and regional day trips, lectures, and entertainment, such as theater or concerts.
For more information on Senior Summer School, the five great cities they'll be exploring next summer, and some of the planned trips and events they have in store for their clients, visit them online at http://www.seniorsummerschool.com.
###