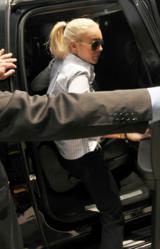 Hollywood Elite Are Shocked at New Dirt.com Poll. Lindsay Lohan's Career Not Over By A Long-shot!
LA California (PRWEB) November 23, 2011
Who would you rather have lunch with?
Lindsay Lohan or Kim Kardashian.
That was the question posed to Dirt.com readers, and the results are very surprising.
New polling data released today from Dirt.com show that 70% more people would rather have lunch with Lindsay Lohan than Kim Kardashian, and the results have started Hollywood scrambling.
Hollywood insiders are buzzing about the poll as it shows a glimmer of light for Lohan's career. Hollywood Executives have taken note that people who love celebrities still love Lohan. This is shocking to many of Hollywood's heavy hitters as Kim Kardashian has dominated to tabloids in the past three months.
One of Hollywood's Elite said, "This will make Producers and Directors everywhere take another look at casting Lohan for their next movie".
Shari Rock, spokesperson at Dirt.com says, "Many people have predicted that Lohan's career was over due to her well-documented problems with law enforcement and self-abuse. Rock says, "Not so fast! Our poll indicates that regular people are still enamored with Lindsay. People are very forgiving, and the ongoing love affair with The Lindsay Lohan Factor is certainly continuing".
Rock says, "With all the huge publicity that Kim Kardashian has been getting lately, this poll has surprised everyone in Hollywood. The people at Dirt.com predict that Lindsay will get her life back on track and become one of Hollywood's biggest turnaround success stories in the next two years."
Rock continues, "We believe the reason why people would want to have lunch with Lohan by a wide margin over Kim Kardashian is not only due to their fascination with bad girl stars, but she has talent as well. We believe that if you look at Lindsey's and Kim's accomplishments to date, Lohan simply blows Kardashian out of the water. At the end of the day, people appreciate real talent."
Lohan has appeared in 17 films in her career, with the most recent being 'Underground Comedy" in 2012. Kardashian, a socialite, television actress, and model is best known for her E Reality TV show and 72 days of marriage to Kris Humphries.
About Dirt.com
Dirt.com is rapidly becoming a leading worldwide entertainment media brand. Throughout the world, the term "Dirt" is synonymous with gossip and opinion. In this context, Ernest Hemingway originally introduced the word in 1926 when he began using the term in the letters he wrote to friends referencing "Dirt" as gossip. Ernest was a notorious Gossip Monger and loved to not only dish dirt, but receive it as well. Dirt.com has already been read by people in 178 Countries and brings a new approach to the entertainment landscape by publishing original editorial content whereby readers and writers co-exist by making the site their preferred platform for sharing opinions on News, Gossip and Entertainment. Dirt.com has been called the World's First Citizen News And Opinion Network.
###