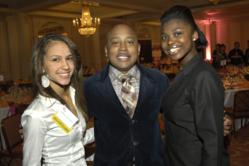 BUILD helps me believe in the strength of my ideas. I can do anything."
- Stephanie, BUILD student
Boston, MA (PRWEB) November 23, 2011
BUILD, a successful national organization using entrepreneurship to propel disengaged, at-risk students through high school to college success, celebrated its newest site in Boston with a sold out gala Nov. 10 at Boston University. The inaugural event raised $210,000 to support BUILD-Greater Boston's programs, which serve nearly 100 youth entrepreneurs at four public high schools.
Several students told the sold out crowd just how meaningful their BUILD experience had been. "BUILD helps me believe in the strength of my ideas; I can do anything," said Stephanie, a student at Charlestown High School.
The event's honoree, Daymond John, stars in the hit ABC-TV show "Shark Tank" and founded FUBU, a globally recognized clothing company.
"Growing up in Queens, I was the perfect candidate for BUILD," he said. "My life could have taken tragic turns due to not having clear direction, knowledge and mentors to walk me through the hurdles from life's day to day challenges. I have never believed more in organizations like BUILD until I had the opportunity to meet and listen to the testimonies of the BUILD kids. They inspire me."
Serving as the event's keynote speaker was Babson College President Len Schlesinger. Others who appeared at the launch include Advancit Capital Chair and National Amusements President Shari Redstone; Bain Capital Partner and BUILD Boston Board Chair Jeff Glass; Chairman of State Street Foundation George A. Russell, Jr.; Next Street President Ronald L. Walker, II and Marriott Daughter's Foundation President Mary Alice Hatch.
"BUILD plays an important role in helping young people become entrepreneurs in the broadest sense of the word—starting or growing any kind of venture in any kind of setting," Schlesinger said. "BUILD does this not with a short-term elixir, but with a long-term mentor-based sustainable relationship that allows students to plan and operate an actual business."
ABOUT BUILD:
BUILD is a 4-year college access program that helps at-risk youth launch their own businesses. Students develop their own concepts, write business plans, pitch to funders, and launch real business ventures. Entrepreneurship is the hook—but college is the goal. Over the past eleven years, 100% of BUILD seniors have been accepted to college, with 91% accepted to 4 year colleges and universities.
BUILD currently operates three sites in the San Francisco Bay Area and one site in Washington DC. The Boston program serves 90 students at Jeremiah E. Burke High and Community Academy of Science and Health in Dorchester, Charlestown High in Charlestown, and Another Course to College in Brighton.
CONTACTS:
Nancy Sterling, APR
ML Strategies, LLC
(617) 348-1811
nsterling(at)mlstrategies(dot)com
Kate Eisenberg
Mintz Levin
(617) 348-4730
keisenberg(at)mintz(dot)com
MORE INFO:
http://www.build.org
###