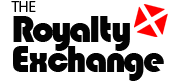 We are excited about our push into alternative energy royalties
Raleigh, NC (PRWEB) November 22, 2011
Usually known for its unique niche in the entertainment industry, The Royalty Exchange opens its "doors" to all forms of royalties with an impressive addition to their online investment marketplace: a Canadian solar energy project worth $2.25 Million in royalties over a 20 year period.
Ontario Power Authority (OPA) granted several contracts via their Feed-In Tariff (FIT) Program to buy back power from alternative energy sources. Our client undertook initial developments on a 10 Megawatt (MW) solar farm in return for future royalties. This solar project, now owned by a publicly traded US utilities company, was awarded a 20 year Power Purchase Agreement (PPA) in February, 2011. Work has commenced on the project with over $1 Million invested to date. Royalties for the project are scheduled to begin upon the project's commencement of commercial operations at the end of 2012 .
TRE (which launched its Beta in late July) provides an online platform for anyone to sell their royalties to songs, books, movies, TV shows, trademarks, patents or any work generating a royalty stream to interested buyers. Experiencing huge success on the auctions of a number of musical royalty streams, The Royalty Exchange plans to host a large number of auctions in the upcoming months.
Recent auctions sold on the site include the classic Disney songs "Whistle While You Work" and "Heigh Ho" from Snow White and The Seven Dwarfs, "Little April Shower" from Bambi, as well as, the entire catalog of songs composed by Frank Churchill used in most classic Disney films prior to 1942. The Royalty Exchange has also sold percentages of royalty streams from songs recorded by Whitney Houston, Aretha Franklin, Kenny G, Eric Benet, George Benson and Club Nouveau.
While there is a clear novelty aspect of owning a piece of entertainment history or intellectual property, these type of royalties also provide a very solid investment. Many of the auctions show large steady ROIs ranging from 8% to 11%--and in many cases--a longevity of over 100 years. Entertainment royalty streams also have the potential to exponentially increase if they are remastered, used in commercials/movies/TV shows, adapted for film (in the case of a book) or used in any medium requiring copyright permission.
In addition to the solar energy project, The Royalty Exchange is currently hosting auctions for the legendary rap duo Rodney O & Joe Cooley, and the renown jazz musician Johnny Britt.
The auction for the solar energy project ends on January 8. Auctions for Johnny Britt and Rodney O also end on January 8. Buyers can view the auction details at http://www.theroyaltyexchange.com.
# # #