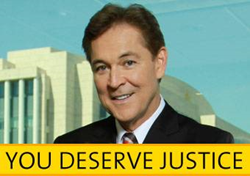 Los Angeles, California (PRWEB) November 23, 2011
The Reeves Law Group, one of California's largest and most highly reputed personal injury law firms, is now representing personal injury clients across The Golden State. The legal powerhouse that is The Reeves Law Group has a large and experienced team of lawyers, as well as the resources needed to be able to represent hundreds of clients in personal injury cases throughout not only the greater Los Angeles area, but the entirety of the state. The firm is proud to announce that they are now handling cases for clients in more locations that ever. The Reeves Law Group believes that all people deserve fair, experienced, and results-driven legal representation, and their doors are now open to personal injury clients throughout the state of California.
The Reeves Law Group is a large and well established personal injury law firm which practices across a wide range of personal injury areas. These include vehicle and motorcycle accidents, wrongful death, serious and catastrophic injuries, slip and fall accidents, trucking accidents, construction injuries, and defective product injuries. The firm operates on the core belief that a strong, successful representation of personal injury victims serves to change the conduct of wrongdoing and negligent individuals and organizations, and at the same time promotes the public's safety and well-being. It is this philosophy, along with their size and resources that has made the firm a staple in the California personal injury courts for more than 25 years.
The staff has decades of combined legal experience, which they employ to achieve millions of dollars in settlements for their clients each year. The lawyers at The Reeves Law Group stand-out because of their legal skill, professionalism, and the respect they commanded from insurance companies and defense attorneys alike. Because they are a long-standing and established firm, The Reeves Law Group has been able to build up the necessary financial resources to go toe-to-toe with large insurance companies as well as corporations and other well-financed, negligent defendants.
The Reeves Law Group has always been able to achieve large settlements for clients across a wide range of personal injury case areas, but they have never before had the physical reach and presence like they do now. From Central L.A., to Long Beach, to Fresno, the reach of the The Reeves Law Group is truly vast, as they seek to fulfill their mission of providing fair, respectful, and experienced legal representation to clients across the great state of California. If you need a free consultation about your case please contact one of our Los Angeles Personal Injury Attorney's
If you or a loved one has been in an accident or suffered an injury, please contact us today.
The Reeves Law Group
1055 W 7th St #3333, Los Angeles, CA 90017
(213) 271-9318 ‎
###