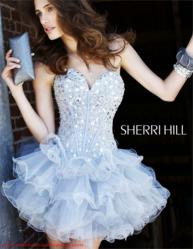 If these students are struggling to find a pair of tennis shoes, there is an even greater need for a little holiday cheer in the Joplin community.
Pleasant Hill, MO (PRWEB) November 22, 2011
November 22, 2011 marks the six month anniversary of the devastation that swept over Joplin, MO on May 22, 2011. The devastation began with an EF-5 tornado that claimed 124 lives and destroyed about 8,000 buildings. The massive tornado has been labeled the deadliest single tornado since 1950. Massive efforts have been put in action by several organizations to help in the rebuilding of Joplin, but there is so much more that needs to be done.
On November 12, 2011 NetFashionAvenue.com, a retailer of special occasion formal wear, sent a representative with an assortment of new designer dresses to Joplin, MO. These dresses were donated to Operation Fairy Godmother, an organization that provides dresses, shoes, jewelry, hair service, and more to high school students in Joplin, who do not have the means for extra activities, such as prom and other high school events. Members of the organization were discussing their shortage in dresses, when they received the phone call from NetFashionAvenue.com. They were thrilled to accept the donation, but when they saw the amount of dresses, one of the coordinators said she was brought to tears of joy.
The organization is still in need of many items such as jewelry, dress shoes, hair and makeup products, evening bags, and other accessories for these special occasions. NetFashionAvenue.com considers prom an important part in a young ladies life. "There is a need to make these young girls feel special on their prom night. My hope is that local businesses will open their hearts to make these prom dreams come true," says one NetFashionAvenue.com employee.
NetFashionAvenue was unaware of the extreme need for this organization, and asked a Bright Futures director, Kristen, what their biggest need was at this time. Kristen informed us of another operation for the winter season called, Operation Warm Hands. This operation provides warm clothes, such as gloves, socks, coats, scarves, hats, boots, clothes, blankets, and other new or gently used clothing needs for Joplin citizens. She then commented on the fact that they had a list of 12 high school students who were in need of tennis shoes. In the quickly approaching holiday season, many take for granted the small things, such as a pair of shoes. If these students are struggling to find a pair of tennis shoes, there is an even greater need for a little holiday cheer in the Joplin community.
For more information and contacts please visit:
http://www.brightfuturesjoplin.org
http://www.joplinschools.org
"We plan to get the word out, in hopes that local businesses will help meet the needs of Joplin during this holiday season, as well as future needs," explains NetFashionAvenue.
About NetFashionAvenue:
NetFashionAvenue is an authorized retailer of the leading designer brands in formal wear, located in Pleasant Hill, MO and online at http://www.netfashionavenue.com. Here you can find dresses for all events including: prom, homecoming, evening, mother of the bride, bridal, and special occasion gowns.
###