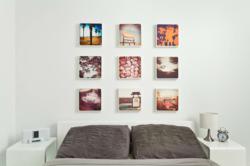 We previewed these Instagram canvas prints at 1197, the first ever mobile photography conference, to several industry insiders. They were blown away by the results." -- Spencer Callaghan, director of marketing
New York, NY (PRWEB) November 22, 2011
It's the beginning of a beautiful friendship. Instagram, a spontaneous form of photography that has attracted the attention of hip and edgy iPhone users worldwide has changed the way photos are shared. Now, CanvasPop is helping customers print Instagram photos and turn them into stunning wall decor.
"We take great pride in being the most innovative player in our industry," said Adrian Salamunovic, CanvasPop co-founder. "We're proud to be the first company to print Instagram photos on canvas in large format."
Early on, CanvasPop recognized similarities between their customers and Instagram users. Both are early adopters who love taking pictures and are influential within their communities. When the company's large customer base and even its employees, who frequently use the app, started printing their own Instagram photos on canvas, they knew it was something they needed to jump on.
The Instagram community is made up of over 10 million users who have uploaded over 150 million images and counting. That's 1.3 million uploads each day. By integrating the Instagram API on their website, CanvasPop has created a simple and fun way for Instagram users to have their photos printed.
"We've developed a process that makes printing your Instagram photos as easy as taking them," said Spencer Callaghan, director of marketing. "We previewed these Instagram canvas prints at 1197, the first ever mobile photography conference, to several industry insiders. They were blown away by the results -- they look amazing."
CanvasPop has developed a proprietary technique that allows lower resolution Instagram photos to be enlarged and look beautiful. They have specifically selected two sizes (12" x 12", 20' x 20"), two border color options (black or white) and one border depth (1.5") to ensure the process is quick and easy. It's simple to get your prints ordered so you can get back to taking more amazing pictures.
Since the process is streamlined and cost effective, CanvasPop has decided to pass the savings onto the customer, developing special pricing for Instagram users that allow them to print in multiples. They look fantastic in multi-canvas layouts and a 12" x 12" is just $29.95, a 20" x 20" is $59.95. It's affordable and easy to make an entire wall of art with each piece being a unique reflection of it's owner.
CanvasPop is renowned for its quality and attention to detail. The company directly owns the entire manufacturing process from beginning to end so every canvas print comes with a lifetime guarantee against cracking, fading and other general wear and tear. Plus, your Instagram print comes ready to hang "out of the box".
Visit http://www.canvaspop.com/instagram to get started and join us on the mission of making beautiful personalized art from your iPhone photos.
About CanvasPop
CanvasPop is the web's most innovative provider of custom, high-quality canvas printing services. CanvasPop empowers photographers, digital artists, interior designers and everyday customers to print their images on high quality canvas. CanvasPop allows anyone to print any image, including Facebook and iPhone pictures, at virtually any size regardless of the original resolution of the image. CanvasPop's goal is to provide both consumers and professionals with the easiest way to print any image on canvas. CanvasPop has printing and distribution facilities in the United States and Canada. CanvasPop is a DNA 11 company. For more information please visit http://www.canvaspop.com.
# # #