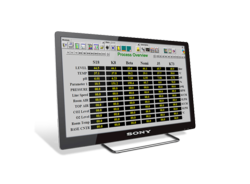 Now with WebExpress you can have all of this information and more on display screens hanging from a wall.
Syracuse, NY (PRWEB) November 28, 2011
Remote Process Alarms, LLC has just added WebExpress to the Watch*IT OPC family. Watch*IT OPC Express was the first OPC client to offer full support for Android, iPhone, BlackBerry, and Windows Phone smartphones. Now, Watch*IT OPC WebExpress raises the bar. It offers web content of shop floor data through its very easy and intuitive web platform. With this new capability, users can arrange and display information from many different systems in new ways, with only Watch*IT OPC and a TV.
Watch*IT OPC started as a tool that was designed to help better manage alarms and events that are critical to making a profitable product. Then the Express version added delivery of live information over a private network to smartphones and tablets with the Watch*IT OPC Mobile Apps. WebExpress adds the ability to send all of this information and more to display screens hanging from a wall. What is unique about WebExpress is that these displays can be Web enabled devices like the new Sony Google TV.
WebExpress enables users to create web pages that combine various elements of a facility and process. As an example, these pages could display the room temperature and relative humidity from a HVAC system, alongside a graphic representing a unit from a distributed control system showing level, pH, and temperature. The WebExpress web server can display any data point from an OPC server. Whatever the product is, Watch*IT OPC helps making it, a more informed process.
ABOUT REMOTE PROCESS ALARMS, LLC.
Remote Process Alarms, LLC (RPA) is a provider of process automation system monitoring software and services. RPA is dedicated to delivering manufacturing data to the new wireless platforms and technology that allows users to get real-time process data and alarms from DCS, SCADA, HVAC, BMS, BAS, PLC, and other similar systems. The RPA team has served commercial and industrial customers with discretion for over 15 years and is an OPC Foundation Member. Remote Process Alarms is the maker of the Watch*IT OPC line of products designed to collect and monitor manufacturing data via OPC systems.
For more information, please feel free to call us at 1-800-380-9772 or visit our website at http://www.watchitopc.com
###