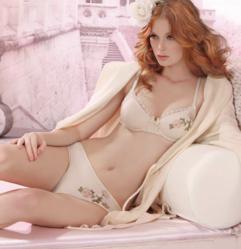 Our goal is to offer widest range of organic cotton bras and panties in the country.
Los Angeles, CA (PRWEB) November 22, 2011
FaeriesDance.com, a leading online retailer of organic clothing, is pleased to announce the expansion of their organic intimates line. For the last 5 years, FaeriesDance.com has continued to seek out organic cotton bras, sustainable panties and eco-friendly nightwear. At the moment it is nearly impossible to find adjustable bras with 3-position back closures made from organic cotton or other eco-friendly materials in the USA. FaeriesDance.com continues to work with sustainable manufacturers throughout Europe and Canada to bring the most diverse range of sustainable lingerie items to the US market.
Their most recent additions include more than a dozen products from Love Nature©, an Italian brand specializing in elegant bras and nightwear, and a line of allergen-free intimates offered by Cottonique© that are purpose designed to help folks with certain chemical sensitivities. Even more new styles and brands, including a line of bra and panties made from recycled non-GMO soybean fibers, are on order and expected in early December. "Our goal is to offer the widest range of organic cotton bras and panties in the country." says owner Adrienne Catone. They're also slowly expanding the size range of their products. With panties available from Misses sizes 0 - 20, and bras from 30A to 44D, they continue to service a wider and wider market.
FaeriesDance.com's tag line is "Go Green Right Down to Your Skivvies." With over 200 women's intimates, more than a dozen men's underwear options and even a few organic cotton briefs for the kids, FaeriesDance.com wants to ensure that every man, woman and child can do just that.
About FaeriesDance.com
FaeriesDance.com is an eco-friendly e-tailer offering sustainable apparel and specializing in hard-to-find items such as organic cotton lingerie and intimates. The company is named after the mythological woodland creatures that live in the heart of the forest, honor all things in nature, and who celebrate life with joyous abandon. In addition to providing beautiful organic clothing, FaeriesDance.com is committed to providing a complete environmentally-conscious shopping experience for its customers. Their clothing is made from sustainable fabrics and low-impact dyes. The company sources products from both U.S. and overseas manufacturers who ensure that all workers are treated fairly and are safe from sweatshop conditions. FaeriesDance.com has even gone to great lengths to provide consumers with environmentally sound gift wrapping options. They strive to help everyone "Go Green Right Down to Their Skivvies."
###