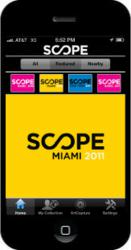 I see Collectrium as the leader in the new breed of mobile applications for the art world," Alexis Hubshman, Founder of the SCOPE Art Fair.
Miami, Florida (PRWEB) November 28, 2011
Thanks to Collectrium's new mobile technology, Collectors and art enthusiasts can recognize, organize, bookmark, and share works of art at Miami Basel Art Week with the click of a button; and now with video. The gathering of art world at SCOPE Miami will experience art as never before on November 29th - December 4th, 2011.
Collectrium is part of a new generation of young companies looking to dramatically enhance the way people learn about and collect art via new innovations in technology. With Collectrium's mobile app, a visitor to the fairs will be able to point their iPhone or iPad at any registered artwork and instantly receive extensive information on the artist and the piece; add the artwork to their favorites; share with friends via Facebook, Twitter, and email; add video; and contact the gallery about the artwork. Users can also view listings, scheduling information, and interactive maps of the fairs.
Tapped as one of 'America's Most Promising Start-ups' by Bloomberg BusinessWeek (4/15/11), the Collectrium mobile app has been warmly embraced by gallerists around the world. Collectors can now leave the Miami with a personalized virtual gallery and catalogue of the fair. Collectrium also functions as a QR code scanner for sculpture, installation, moving image pieces, or any work with a QR code on the label.
"Collectrium's image recognition capability is absolutely unique. It's one reason I see them as the leader in the new breed of mobile and social applications for the art world," said Alexis Hubshman, Founder and President of the SCOPE Art Fair.
"This is a social art management system, part of the next generation of tools for appreciating art," says Boris Pevzner, the former Silicon Valley entrepreneur who founded Collectrium. "Our app makes the experience of visiting an art fair more interactive for the art lover—enhancing the on-site visit, while also allowing visitors to take the fair home with them."
In addition to using the Collectrium app to automatically identify artworks, visitors can browse the entire art show catalogue on their mobile device; enter new images, details and personal notes about works of art not already registered in the system.
Pevzner concludes: "We've created a bridge between the physical and virtual art worlds by bringing the power of online technology to that live moment of discovery."
About Collectrium
Beautiful technology for the art world
Over the last few years, Collectrium has become the leader in providing cutting-edge technology to the art world. Collectrium clients use products to organize, discover, share, and promote art:

#1 iPad mobile inventory for galleries
#1 iPhone app for art fairs
#1 mobile art discovery tool for collectors
#1 contemporary art network
Fastest growing cloud-based art inventory management
Globally available in 7 languages
ArtSlant.com, Collectrium's sister site, is the #1 contemporary art network, and a vibrant rapidly growing community of collectors, artists, and galleries. It provides a comprehensive calendar of arts events worldwide, as well as the best in art buzz, reviews, commentary and events on a city-by-city basis.
SCOPE Miami 2011
This year's Miami edition of SCOPE, November 29th - December 3rd, 2011, in Miami's Wynwood Art District, presents over 90 international galleries upholding its unique tradition of solo and thematic group shows presented alongside museum-quality programming, collector tours, screenings, and special events. The unique SCOPE experience expands this year in partnership with several cultural organizations, featuring: film, music, theatre and performance.
For more information, or to schedule an interview with Collectrium founder Boris Pevzner, please contact Natasha Rottman (212) 796-5887 or email pr(at)collectrium(dot)com.
# # #