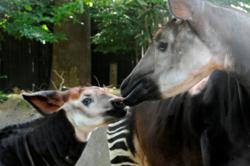 AZA standards and programs ensure that animals in accredited facilities receive the best possible care and they also facilitate important partnerships between institutions
(PRWEB) November 22, 2011
An okapi birth at the Wildlife Conservation Society's (WCS) Bronx Zoo highlights the importance of animal husbandry at AZA-accredited zoos and aquariums. The Association of Zoos and Aquariums explores this story on its Explore blog.
The okapi was born after a year of careful animal husbandry science by the Bronx Zoo's mammal curators. Curators at the Bronx Zoo have a long history working with okapis with the first one arriving at the zoo in 1937. A breeding program was initiated in 1992 resulting in the birth of 12 calves in the last 20 years. Few zoos have achieved comparable success with this species.
AZA animal-care standards and programs are based on the most current science, practices, and technologies of animal care and management. The bar is continuously raised as new science, such as that done by the Bronx Zoo with their okapi, is undertaken. All of this science contributes to understanding about both basic animal needs, as well as best practices for animal care, ensuring that AZA-accredited facilities are always putting the welfare of the animals in their care ahead of anything else.
The Explore blog brings you exciting, informative, and inspiring wildlife conservation features, zoo and aquarium stories, and profiles. Be sure to visit http://wildexplorer.org to get your wild animal fix!
Founded in 1924, the Association of Zoos and Aquariums is a nonprofit organization dedicated to the advancement of zoos and aquariums in the areas of conservation, education, science, and recreation. Look for the AZA logo whenever you visit a zoo or aquarium as your assurance that you are supporting a facility dedicated to providing excellent care for animals, a great experience for you, and a better future for all living things. The AZA is a leader in global wildlife conservation, and your link to helping animals in their native habitats. To learn more visit http://www.aza.org.
###