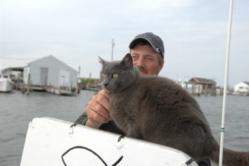 We are heartened to see results so quickly, and it's exciting to know that with the support of veterinarians and volunteers, this island has ongoing care for its companion animals and the island cats
Tangier Island, VA (PRWEB) November 22, 2011
An island off the eastern seaboard is providing a unique opportunity to show the humane effectiveness of the trap-neuter-return (TNR) method of controlling a community's cat population.
"It is somewhat ironic that at the same time a scientist working for the National Zoo is sentenced for deliberately poisoning free-roaming cats at her Washington, D.C. apartment complex, a project on Tangier Island shows there is a humane solution that allows the cats to live out their lives, yet stops the breeding," said Holly Sizemore, director of Community Programs and Services with Best Friends Animal Society, a leading national welfare organization with specialized expertise on cats.
(Note: Nico Dauphine, a postdoctoral fellow with the Smithsonian Migratory Bird Center at the National Zoo, was found guilty on Oct. 31 in District of Columbia Superior Court of attempted animal cruelty, (2011 CMD 008754). Originally, Dauphine's sentencing was scheduled for Monday, Nov. 21; however, sentencing was recently rescheduled for Wednesday, Dec. 14.)
Best Friends Animal Society launched the TNR project last spring to stop the breeding of free-roaming cats on Tangier Island, a remote area off the coast of Virginia and Maryland, where residents speak the oldest English dialect in the United States. With a population of approximately 500 people and around 400 community cats, the islanders are proud of their felines as an integral part of their unique island; but the cats' uncontrolled breeding and the nuisance associated with unsterilized, free-roaming cats was becoming intolerable.
"When Best Friends learned of the situation, we contacted the mayor and other key people on the island to ask if they would like help with spay/neutering their community cats," Sizemore said.
Sizemore says that within the animal welfare community there is controversy over whether or not free-roaming cats have a detrimental impact on wildlife, particularly birds. The island also has thriving bird populations that appear to have cohabited successfully with cats for years, with no species being endangered.
"The islanders wanted the help, but there was no animal clinic on the island, so the logistics necessary to fix hundreds of cats was more than the island residents could handle on their own,". Sizemore said. "So, Best Friends made arrangements to make use of an older, unused medical facility on the island."
After the first visit by veterinarians, Best Friends staff and volunteers, an almost immediate change was noticeable, according to Pastor Patricia Stover of Swain Memorial United Methodist Church.
"How have things changed since Best Friends came to help with the cats on Tangier Island?" she asked. "Where do I start? Before they came we had problems with cats spraying and fighting, and they just were everywhere. Now, even though I know there are just as many cats, you don't seem to see as many. I think it's because they are more content. They are friendlier and happier.
"Cats that you could not pick up before, now want to be picked up …. I've always believed in TNR, and with this project we have seen a huge difference. We are all very grateful to Best Friends. You hear people in the store talking about how nice it is now."
Mayor James Eskridge is a man who appreciates having cats in his life. A few years ago following a flood, he rescued four kittens from a floating tree. A waterman, Eskridge counts two of the cats he named after Supreme Court justices Sam Alito and John Roberts, as part of his work crew. "Sam" goes out crabbing with the mayor and both Sam and John keep the seagulls and eels away from the crab when he brings his boat into harbor.
His cats also scare off the otters used to raiding the trash; but even with all the help, the rapidly breeding cats created problems, even for the mayor.
"Before Best Friends came it was a mess," said Eskridge. "The stray cats were urinating everywhere and fighting. After the majority of cats were fixed in the spring, things settled right down. It has been wonderful. I have seen a vast improvement in the past few months.
"A tourist who was here this summer said she noticed that every cat roaming around had its ear clipped. She asked me why, and I told her how Best Friends came out and helped us. Then Shelly Kotter (Best Friends cat initiative specialist) came out this fall with the veterinarians (from Caring Hands Animal Hospital) and got the stragglers.
"The veterinarians did a really great job," Eskridge added. "They were super nice and really cared about our cats. It's the talk of the town that the cats have cleaned up their act."
Tommy Eskridge, owner of Four Brothers Crab House & Ice Cream Deck and member of Tangier Island Town Council, said:
" We have just as many cats as we did before the TNR project, but I'm not seeing as many kittens," he said. "There was a tourist feeding cats and she asked me 'Who do they belong to?' So I told her about Best Friends, how they had been here and took care of the cats for us and how now we are providing facilities for future spay/neuter.
Tommy Eskridge said the utilization of the old island health care center as a place to care for pets and the island cats has made it so much better, especially since the cats are not prowling around as much.
"Everybody is really happy," he said. "Best Friends (staff and volunteers were so nice and polite, and people were really glad to have them here."
Between the large project last spring and a second visit this fall, 308 free-roaming cats were sterilized and vaccinated. Additionally, 24 pet cats and 59 pet dogs were vaccinated and/or sterilized.
Operation Catnip, an organization from Gainesville, Fla., loaned traps and medical supplies. Dr. Jon Reiss from Virginia and several of his colleagues participated in the project. in the spring. For the follow up visit in the fall, Dr. Jeffrey Newman of Caring Hands Animal Hospital, also in Virginia, donated his services, as well of that of 11 of his staff members.
Newman said: "Following our experience on Tangier Island (helping with the follow-up spay/neuter after the first project in May) we plan to go back to the island about every six weeks to provide low-cost vet care to the community. It was a wonderful, rewarding experience working with Best Friends. I had never done TNR before and now that we have this experience, we want to do more. Being involved in projects like this is a great way to rally the staff and give back to the community."
Tangier Island has provided a kind of simulated laboratory setting to show the effectiveness of TNR, Sizemore said. "We are heartened to see results so quickly, and it's exciting to know that with the support of veterinarians and volunteers, this island has ongoing care for its companion animals and the island cats."
About Best Friends Animal Society
Best Friends Animal Society is a nonprofit organization building no-kill programs and partnerships that will bring about a day when there are No More Homeless Pets®. The society's leading initiatives in animal care and community programs are coordinated from its Kanab, Utah, headquarters, the country's largest no-kill sanctuary. This work is made possible by the personal and financial support of a grassroots network of supporters and community partners across the nation.
Become a fan of Best Friends Animal Society on Facebook: http://www.facebook.com/bestfriendsanimalsociety
Follow Best Friends on Twitter: http://twitter.com/BFAS
###