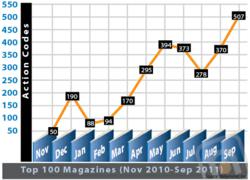 QR and other action codes grew 476% in magazines during 2011.
Arlington, MA (PRWEB) November 22, 2011
Mobile Action Codes, which include QR codes, Microsoft Tags and 2D barcodes, are quickly becoming an important advertising tool for engaging readers, building brand loyalty and capturing new business, according to a new Q3 2011 study by Massachusetts-based mobile engagement company, Nellymoser, Inc. The QR Code and Tag study found the use of magazine action codes in the Top 100 U.S. monthly magazines grew a dramatic 476% from January to September 2011 with a significant portion of that growth in advertising.
For its latest mobile action code study, Nellymoser surveyed the top 100 U.S. magazines by circulation and looked at the published issues from July to September 2011. Growth was seen in many areas including:

Total number of action codes in magazines grew 476% – from 88 in January to 507 in September
The percent of ad pages with at least one action code grew – from 3.53% of ad pages in January to 5.76% of ad pages in September
The average number of action codes per issue grew – from 2.33 codes per issue in Q1 to 4.83 codes per issue in Q3
Advertising is outpacing editorial for action code growth – in January there were seven advertising action codes for each editorial code. By September, the ratio was nearly 20:1.
"The strong action code growth we've seen in 2011 signals the growing importance of print to mobile campaigns to advertisers, in particular," said John Puterbaugh, CEO of Nellymoser. "Print to mobile campaigns provide a compelling way for advertisers to connect with readers immediately that can't be reproduced with a traditional print ad."
QR Codes and MS Tags Continue to Dominate Action Code Market
Throughout 2011, advertisers overwhelmingly preferred QR Codes and Microsoft Tags to other types of action codes such as SpyderLynk and JagTag. From Q1 to Q3, QR Codes led with a 61% market share. Microsoft Tag followed with a 39% market share. None of the other 2D barcodes exceeded four percent market share.
Women's Magazines Continue to Outnumber Other Titles
In Q3, beauty, home and fashion magazine titles combined had the biggest share of action codes with 38% (436 codes) demonstrating that women are a strong target audience for this technology. Automotive, health and television categories represented 18% of magazine titles. While women's titles continue to lead, these statistics illustrate that action codes are appealing to a diverse audience across a large spectrum of magazines.
Video, Data Capture, and Social Media are Biggest Uses for Action Codes
Video, data capture forms (sweepstakes and opt-ins) and social media lead the way as the biggest uses for action codes. In Q3, nearly 47% of action codes led the mobile user to some type of video content such as a how-to video or product demonstration. Data capture for lead generation or opt-in grew significantly from 22% in Q1 to more than a third of all code uses.
Sweepstakes, in particular, gained favor with advertisers and publishers as a way to capture leads and get readers to opt in to their communications. From January to September sweepstakes grew 517% with a trend towards sweepstakes that span an entire publication and involve multiple advertisers and editorial pages.
About Nellymoser
Nellymoser, a mobile technology company, creates instant, interactive consumer "engagements" and rich media apps on mobile devices, such as tablets and smartphones.
Nellymoser's engagements and apps range from contests and product videos to interactive multimedia engagements that can be shared on social media (e.g., Facebook, and Twitter) and include e-commerce for instant product purchases. Many of Nellymoser's clients use us for responding to action codes, such as 2D barcodes, QR codes, Microsoft Tags, Digimarc watermarks and NFC. Nellymoser's customers include leading publishers, advertisers, retailers, and consumer packaged goods companies.
###