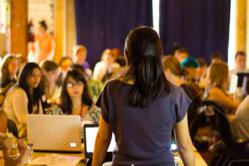 Hubba is the ideal partner to help us reach (our) goals.
Toronto, Canada (PRWEB) November 22, 2011
Ladies Learning Code, the Toronto-based not-for-profit group focused on "making women and girls passionate builders – not just consumers – of technology and the web" announced that they have selected Hubba as their lead sponsor. Started in June 2011 with a tweet, the movement has exploded into a social phenomenon. Having successfully completed three sold out (and waitlisted) workshops and a sold out launch party, the organization is poised for significant growth in 2012.
"We have been overwhelmed by the tremendous support for our vision," says Heather Payne, Founder of Ladies learning Code. "2012 will be a critical year for us as we focus on our larger goal of inspiring an empowering women and girls to personally leverage all that technology has to offer. We'll be expanding our offering by introducing more workshops every month and developing new programs aimed at different demographics, particularly girls." Continues Ms. Payne, "Hubba is the ideal partner to help us reach these goals. Ben and team have been supporters from the very beginning. In addition to the usual sponsor assistance, we are fortunate to benefit from their guidance, expansive network and technical subject matter expertise."
"We couldn't be more proud to be associated with such an amazing group of people," says Ben Zifkin, CEO of Hubba. "Ladies Learning Code is perfectly aligned with our core philosophy of spreading an appreciation for technology. Our industry can only get better with a larger, more diverse and passionate community," continues Mr. Zifkin. "Heather and her team have done a fantastic job in their brief history. We are extremely excited to work closely with them and support them as they continue with their important mission."
Ladies Learning Code is powered by a supportive community – in particular, Toronto's technology community, without whom Ladies Learning Code would not be possible. Although Ladies Learning Code has plans to expand its offering in 2012, the core of the movement thus far has been about the execution of social, collaborative and supportive workshops where women of all skill levels feel comfortable exploring their interest in technology and computer programming. To date, these full-day workshops have covered topics such as HTML & CSS, JavaScript and Ruby. With a ratio of one instructor to every four participants, the workshops are very hands-on, and the result is a learning experience that is meaningful and memorable.
About Ladies Learning Code
Ladies Learning Code's mission is to inspire and empower women and girls to become passionate builders - not just consumers - of technology and the web, by engaging them in best-in-class programs that introduce and develop their technology skills in an environment that is supportive, social and collaborative. Started with a tweet by Heather Payne in June of 2011, the organization has already reached hundreds of women and is growing at a phenomenal pace. For more information, please visit http://www.ladieslearningcode.com.
About Hubba
Hubba is the leader in Mobile Presence Management software. Hubba's open technology platform gives brands and retailers the power to deliver the right message to the right customer at exactly the right time to influence a purchase decision. For more information, please visit http://www.hubba.com
###