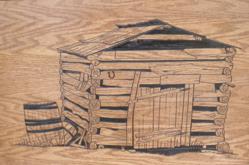 ...gallery features the original art of Stanley Shirk.
Waynesboro, VA (PRWEB) November 29, 2011
Cabin Creekwood proudly announces the addition of a brand new art gallery and studio. This gallery features the original WoodArt of Stan Shirk.
Stan has been an artist at heart for many years, but it is only recently, since his disability required him to leave regular employment, that he has developed this very specialized art form.
Stan Shirk's WoodArt begins in the form of a photo of a scenic location from this area. The artist then hand-draws the image onto a sheet of paper, and from there transfers it to a piece of 1/4 inch plywood. The main outlines and then the details are carved out using a small handheld router.Next the artist shades sections of the image with india ink. Finally, several coats of polyurethane are sprayed onto the plywood, and it is framed to create a beautiful finished product.
The gallery and studio are located in the Shirk's home at 4 Creekwood Lane, Lyndhurst, VA 22952. There the public can see all of Stan's art, as well as the studio he works in. There is also a pictorial depiction of each step in the artistic process.
Artwork can also be seen and purchased online at http://www.etsy.com/shop/woodartbystanshirk.
The gallery is open to the public daily, whenever the Shirks are home.
Stan has made WoodArt reproductions of all nine of the Virginia vacation cabins at Cabin Creekwood, in addition to many historic sites in the area. He is currently working on a series involving arches of all kinds.
Stanley Shirk's connection to Cabin Creekwood is more than that of resident artisan. Stan is actually the founder of Cabin Creekwood. It was back in 1981 when he and his wife Mary Jane purchased the original cabin, and as they say, the rest is history. Not only was he the founder of Cabin Creekwood, but Stan & his wife Mary Jane are parents of Deb Horst, current owner of Cabin Creekwood, and they are actively involved in the day-to-day operations.
###