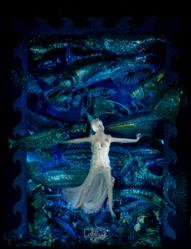 "Testing the Waters" is quite the aquatic triumph as its production was 10 months in the making and is the most labor-intensive single window display in Bergdorf Goodman history.
New York, NY (PRWEB) November 22, 2011
The holiday windows at Bergdorf Goodman, a true New York holiday spectacle, continue their well-known tradition of high fantasy, dramatic surprises, extraordinary fashion, and great storytelling. The 2011 windows, entitled "Carnival of the Animals," take their inspiration from diverse settings reimagined in various materials… and the animals that dwell there. David Hoey, Senior Director of Visual Presentation, and team devote an entire year to the production of the holiday windows. They will remain on display through January 3, 2012.
Starting from 57th Street, each of the five main Fifth Avenue windows examines the theme from a different perspective:
Built around a vintage collection of mixed-metal birds and jungle animals, "The Brass Menagerie" is set in a stylized tropical forest of metal and mirror and glimmers with leafy foliage of brass and steel. Within this forest is a fantasy recording studio, with vintage microphones and a brass "primate" jazz combo. A giant brass birdcage houses a surprise tenant, and the floor is covered several inches deep with a secret quantity of copper pennies. For this window, a special dress was created by Naeem Khan.
"Breaking the Ice" invites viewers to a mid-afternoon arctic garden party whose guests include "couture plush" animals such as polar bears, a moose, an arctic mountain goat, a seal, and a of pair wolves. All the animals have been upholstered in luxe white textiles and appliquéd with icy crystals, beads, and sequins. A Baccarat chandelier adds luster. The party hostess is the focus of attention in her specially designed dress and one-of-a-kind cape, all by J. Mendel.
Completely encrusted with hand-cut Italian mosaic tile, this intensely blue window is truly an undersea fantasy. A single mannequin, in a seashell dress from the Alexander McQueen Spring 2012 collection, appears to be floating amid a massive collection of mosaic sea creatures. Everything is highly patterned, with swirling textures and oceanic colors. "Testing the Waters" is quite the aquatic triumph as its production was 10 months in the making and is the most labor-intensive single window display in Bergdorf Goodman history.
"Teacher's Pets" takes viewers inside a 3-dimensional paper classroom filled with black and white paper animals, including a life-sized paper zebra, ostrich, panda bear, aardvark, white peacock, and more. As the "students" pose within a cascade of zoological textbooks, the teacher - dressed in a black and white lace Marchesa gown - presides over the paper bestiary. Noted New York calligrapher, Bernard Maisner, provided hand-lettered labels, in Latin, for all the animals.
In the final window, "Artists and Models," a diverse collection of wood and leather folk-art animals from all continents gathers together. The setting is a sculptor's studio out of a folk tale, with an enormous assemblage of wooden creatures. A mannequin, dressed in a mélange of designers, assumes the role of sculptor, assisted by several antique wooden artists' models and by a quartet of antic leather monkeys.
And it's not just inside the windows where old-world inspiration mingles with emerging technology. This holiday season Bergdorf Goodman has created several special and unique initiatives that involve all marketing and social media platforms.
Bergdorf Goodman goes to the dogs this year for its annual holiday video. Inspired by this year's theme of the holiday windows, BG Films presents "Unleashed," a story about some of New York's most charismatic canines as they invade the store in search of a perfect gift for their owner. Guest star, Salty, steals the show with a special performance that will warm hearts of all animal lovers. A preview of "Unleashed" is currently available for viewing. The full version releases on November 23 with a shoppable version releasing on November 29. The video was directed by Theo Stanley of HARBOR Film Company, with Creative Direction and Concept by Aidan Kemp, Vice President and Creative Director, Bergdorf Goodman. Bergdorf Goodman is a dog friendly store and offers holiday treats for visiting pups in the second floor Shoe Salon. To adopt a dog and learn more about the responsibilities of living with an animal, please contact the Humane Society of New York - an institution that has been helping animals since 1904.
Bergdorf Goodman has also launched on Google+, the store's hub for all things holiday. It will feature exclusive holiday content throughout the season; Holiday Windows photos, gift-giving tips, gift guide albums that integrate favorites pinned on Pinterest, and will be the first to present the full version of "Unleashed." Post holiday season, the Bergdorf Goodman Google+ page will be a platform where readers can easily access editorial content shared on 5th/58th as well as announcements concerning new arrivals, trend stories and more.
This holiday season comes to life on the Seventh Floor with the opening of the Bergdorf Goodman Holiday Shop, the debut of Candy Girl and a visit with Santa. The Holiday Shop features over 500 styles of mouth blown, hand painted, exclusive ornaments, all shown on nine different Christmas trees, each with its own unique theme. This year, for the first time, Linda Fargo, Senior Vice President of Fashion Office and Store Presentation, or better known as the store's gatekeeper of style, received her very own ornament complete with her signature bob and leopard style. Candy Girl decks the halls in her Nanette Lepore designed outfit as she provides customers with details on the candy shop, ornament signings and trunk shows. Meet her every Thursday and Saturday from Thanksgiving through Christmas. Santa will also visit the store every Sunday in December. Please email holiday(at)bergdorfgoodman(dot)com to make a reservation for a photo.
The holiday windows along with all Bergdorf Goodman holiday endeavors can be enjoyed by everyone when they visit the dedicated holiday page on 5th/58th and BG.com. The BG.com holiday page can also be accessed by scanning the QR code that appears on several holiday windows.
ABOUT BERGDORF GOODMAN
Bergdorf Goodman, founded by master tailors Edwin Goodman and Herman Bergdorf, is located on the corner of New York's Fifth Avenue and 58th Street, the former site of the Cornelius Vanderbilt mansion. Bergdorf Goodman: The pinnacle of style, service, and imagination, since 1901.
For more information, contact:
Jessica Gioia-Zotts, 646.735.5332 Jessica_Gioia-Zotts(at)bergdorfgoodman(dot)com
# # #