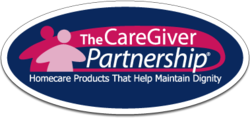 This is another example of creating and maintaining an open and honest relationship with our customers.
Neenah, Wis. (PRWEB) November 22, 2011
Since 2004, The CareGiver Partnership, a leading retailer of incontinence supplies and products, including adult diapers and thousands of other items, has focused on providing the highest level of customer service. This month, The CareGiver Partnership received the "Excellent" rating from STELLAService, an independent, third-party organization that rates online retailers.
STELLAService ratings are the result of "secret shoppers" who evaluate 350 attributes, including shopping experience, site usability, ordering process, delivery timing, order status communication, answering questions and overcoming obstacles when necessary, and overall customer support. The STELLAService seal is earned; it is not based on popularity nor can it be purchased.
"We are proud to have exceeded the established standards of service to earn the recognition of STELLA. The STELLA seal is displayed in the upper left corner of our Web site next to the McAfee safety certification," says Lynn Wilson, Co-Founder of The CareGiver Partnership. "We are in good company, having earned the same rating as Walgreens, Drugstore.com, CVS, Rite-Aid and Wal-Mart."
"This is another example of creating and maintaining an open and honest relationship with our customers. Our all-female team of current and former caregivers helps our customers with answers to their questions. Unlike some other online retailers, we actually encourage customers to call us with questions."
For the past five years, the Better Business Bureau has consistently rated The CareGiver Partnership an "A" based on 16 factors. Last week, The CareGiver Partnership was moved up to an A+ rating, the highest given to a business.
The CareGiver Partnership founders, Tom and Lynn Wilson, turned their passion for outstanding customer service into a book, "Negotiate Anything!," which helps consumers get their money's worth when dealing with businesses. It also includes proven strategies that businesses of all sizes can use to improve their customer service. A free copy is available here, with 10 e-book formats to choose form. Use code UD29U at checkout. The 266-page book is published by Saxony-Coburn.
The CareGiver Partnership is a national direct-to-consumer retailer of home healthcare products for incontinence, diabetes, nutrition support and more. In its fifth year of providing products and services that help caregivers and loved ones maintain personal dignity, the company also offers an online library of more than 1,100 family caregiver resources and personal service by experts in caregiving. Call 1-800-985-1353 or visit online at http://www.caregiverpartnership.com.
Dedicated to helping consumers make informed online shopping decisions, STELLAService is the first and only independent provider of customer service ratings for online retailers. Using its proprietary, rigorous evaluation system, STELLAService rates thousands of retailers each year across a broad array of criteria, including usability and online tools, shipping and returns, and customer support. To maintain its independence and objectivity, STELLAService pays for all products it purchases and relies on its staff of customer experience analysts to test the companies it evaluates. Based in New York City, the company also publishes reports and other research to help companies worldwide improve their service operations. For more information, visit http://www.STELLAService.com.
###