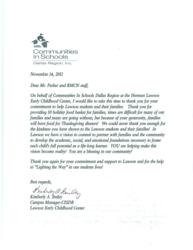 McKinney, TX (PRWEB) November 22, 2011
Local credit repair company, RMCN Credit Services gives back to community by donating food for Thanksgiving dinners. Doug Parker, RMCN's CEO, stated that "We have great employees at RMCN. Even in these tough economic times, they made sacrifices to make it possible for others to have meal during this holiday season".
In a letter from Lawson's Campus Manager, Kim Bailey thanked RMCN for their continued support:
"
November 14, 2011
Dear Mr. Parker and RMCN staff,
On behalf of Communities in Schools Dallas Region at the Herman Lawson Early Childhood Center, I would like to take this time to thank you for your commitment to help Lawson students and their families. Thank you for providing 10 holiday food baskets for families, times are difficult for many of our families and many are going without, but because of your generosity, families will have food for Thanksgiving dinners! We could never thank you enough for the kindness you have shown to the Lawson students and their families! At Lawson we have a vision to commit to partner with families and the community to develop the academic, social, and emotional foundations necessary to foster each child's full potential as a life-long learner. YOU are helping make this vision become reality! You are a blessing in our community!
Thank you again for your commitment and support to Lawson and for the help in "Lighting the Way" in our student's lives!
Best regards,
Kimberly A. Baily
Campus Manager-CISDR
Lawson Early Childhood Center
"
The Herman Lawson Early Childhood Center contains specialized education for young children through Early Head Start, Head Start, Preschool Program for Children with Disabilities (PPCD), and Pre-Kindergarten programs. The center is located near the intersection of Wolford Street and Dowell Street in west McKinney.
###