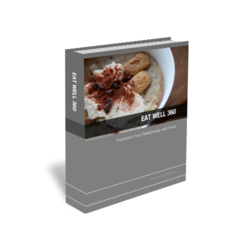 This is actually much more than a healthy diet plan. It's a shift in the way you look at food.
Santa Monica, California (PRWEB) November 28, 2011
Best known for her inspirational outlook on healthy living and as Co-founder of premium fitness bag designer/producer, Live Well 360, Sheila Viers has done it again with her new book, The Eat Well 360 (for the Rest of Your Life) Diet.
Eat Well 360 is a digital e-book that shows you how to stop waging a war with your body and with your cravings, as well as, how to simplify healthy eating once and for all.
Yes, you can have your chocolate and your ripped body too!
"I speak from the heart," Sheila says. "This is actually much more than a healthy diet plan. It's a shift in the way you look at food—one that I know works first-hand, both through personal experience and through helping others with these exact principles over the past 3 years."
"In Eat Well 360 I show you how I stopped yo-yo dieting for good, eliminated food allergies, and gained my leanest body to date. No gimmicks. This is the real deal. What I share is literally the last nutritional system you'll ever need to follow."
The book includes:
More than 141 mouth-watering healthy recipes, including breakfasts, smoothies, soups, stews, entrees, and of course, desserts, so that you can literally look forward to every single thing that you eat.
Step-by-step tutorials showing you how to make your simple, healthy meals gourmet. Things like fluffy, chewy, homemade pizza dough, a secret roasting method that adds so much flavor, simple yet incredible fruit butter, no-sugar added compote, the best oatmeal you'll ever eat, and more.
A Resource Manual packed full of healthy eating tips that make it super easy for you to understand how to incorporate healthy eating into your lifestyle right now.
A Healthy Eating Integration Guide, which covers topics like how the things that you learned about food when you were little may be blocking you from having a healthy relationship with food now and why you really don't have a willpower problem, the problem you do have, and how to fix it.
A comprehensive Substitution Guide to use as your go-to reference in understanding how to correctly substitute other ingredients for sugar, oil, eggs, flour, and more, so that you can make any recipe easily fit your needs.
This is just a small sample of the powerful information that Eat Well 360 has to offer.
For the full details, visit http://www.eatwell360.com and get your copy of this life changing healthy eating plan today!
About
Sheila Viers is the Co-founder of premium gym and yoga bag designer/producer Live Well 360, whose mission is to reinvent the fitness bag and inspire you to see fitness as something you get to do, rather than something you have to do.
Best known for her uplifting perspective on healthy living, Sheila and many of her articles have been featured in health and fitness publications including Yahoo! Shine, Glo MSN, FITNESS Magazine, LiveStrong, FitSugar, Under30CEO, and FigureAthlete.
For questions or to schedule an interview, please contact Sheila directly through the email link above or through this form.
# # #