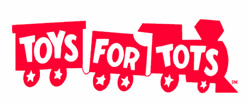 With one simple click, customers, and any Facebook user, can make a big impact in the lives of these children
State College, PA (PRWEB) November 22, 2011
Facebook users can help Growing Tree Toys support the Marine Toys for Tots Foundation this fall by donating toys to children in need. Now through November 30th, 2011, Growing Tree Toys will donate one dollar in toys to Toys for Tots for each new fan who "likes" the specialty toy retailer on Facebook. And, every person who takes part in the promotion is entered to win a $500 toy shopping giveaway!
The Marine Toys for Tots program collects and distributes new toys for children at Christmas. Growing Tree Toys is partnering with the United States Marines to help provide even more toys at the holidays to some of the nearly 14 million U.S. children living in poverty.
"The Marine Toys for Tots Foundation has been giving toys to children for over 60 years, and we are thrilled to be partnering with them again. By reaching out to our customers and providing them with a quick, simple way to donate to the organization, we hope to make the holidays a bit brighter for children in need. With one simple click, customers, and any Facebook user, can make a big impact in the lives of these children and allow them to experience one of the joys of the holidays – presents," says Director of Marketing for Growing Tree Toys, Jon Emigh.
Growing Tree Toys has supported its local chapter of Toys for Tots with specialty and educational toy donations for many years, and based on the success of last year's donation drive, will use Facebook again to raise awareness and funds for the program. But this year, supporters also have the chance to win a $500 shopping giveaway with Growing Tree Toys – an added gift for supporting Toys for Tots!
In order to guarantee that Toys for Tots receives as many toys as possible from Growing Tree Toys, be sure to spread the word about this unique promotion – the more Facebook "likes" Growing Tree Toys receives, the more great educational toys that will reach children for the holidays. And after you "like" Growing Tree Toys, if you are looking for other ways to support Toys for Tots, you can visit http://www.toysfortots.org/ for more information. Toys for Tots accepts monetary or toy donations year round and is in need of volunteer time and much more.
To support the Growing Tree Toys/Toys for Tots fundraising partnership, Facebook users can visit http://www.facebook.com/growingtreetoys through November 30th, 2011. Growing Tree Toys will donate one dollar in toys for every new Facebook fan until they reach their fundraising goal. To learn more about Growing Tree Toys, visit http://www.growingtreetoys.com.
About Growing Tree Toys: Growing Tree Toys is a family-owned, specialty toy store based in State College, PA that has been offering educational toys for kids for over 30 years. In 2003 the website http://www.growingtreetoys.com was launched, aiming to provide the same excellent children's toys and customer service that made the store location successful for years. Growing Tree Toys strives to provide the best toys for children, while also creating awareness about the importance of play to their physical, emotional, and social well being.
###