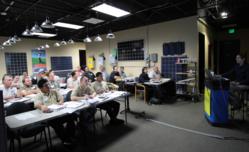 NABCEP...It's the hard one to get...Ambassador Energy makes it easier!
Murrieta, CA (PRWEB) November 22, 2011
As the North American Board of Certified Energy Practitioners credentials become more important throughout the country, Ambassador Energy [AE] executives encourage contractors to take the first step in getting what NABCEP touts as the accreditation that is "the one that's hard to get".
"It is almost impossible to engage in the solar business in certain states like Oregon and Texas without being NABCEP certified," said Kelly Smith, president of Ambassador Energy. "We believe that the solar industry will be much better in general and as a whole, if every solar contractor accomplishes benchmarks and earns credentials, such as NABCEP."
"Our Intro to Solar PV course is designed to give students every opportunity to learn the basics of solar photovoltaic technology and pass the NABCEP EL test, which we give directly after the class. Taking the test immediately has proven to increase the odds of passing, so we encourage the students to stay for it. We even include the test in our training price and provide a hard-cover text book for them to keep," Smith continued.
The next Ambassador Energy Intro to Solar PV course and NABCEP EL test is scheduled for December 12-16, 2011 at Ambassador Energy's headquarters and training facility in Murrieta CA.
Class tuition includes textbook [$100 value] and the opportunity to build an actual solar photovoltaic system during class. The following subjects are also addressed:

How PV Works
What Affects Solar Output
PV System Components
Electrical and Solar Terminology
Solar Site Evaluation
Shade Analysis
PV System Design
Solar Panel Racking
PV Permits and Contracts
Solar Installation Safety
OSHA Standards
Install a System in the Classroom
"Based on high demand," said NABCEP certified instructor, Catherine Kelso,
"Ambassador Energy will continue to offer the 'Intro to Solar PV' and NABCEP EL test every four to five weeks. In addition, we offer one-, two- and three-day training classes on related subjects, ranging from 'Solar for Electricians' to 'Become a Solar Referral Agent'."
Ambassador Energy is one of seven ISPQ accredited firms in the state of California qualified to teach and test for the NABCEP Entry Level [EL] certification. AE trainers are NABCEP certified in both PV Installation and PV Technical Sales. AE will soon offer training for the NABCEP PV Technical Sales accreditation, as well.
The Ambassador Energy training team also provides continuous training, support and customized webinars for its family of Authorized Agencies nationwide.
About Ambassador Energy
Ambassador Energy (AE) is a solar training and distribution company, with 83 Authorized Agencies operating in 17 US states. AE employs two NABCEP Certified Installers (Fulgham 031310-74 and Kelso 031310-124) and one NABCEP Certified PV Technical Sales professional (Fulgham 012911-35). AE provides a turnkey, consolidated platform of renewable energy training, support, product-agnostic distribution and evolving mindshare to a nationwide network of Ambassador Energy Authorized Agents, who are contractors and entrepreneurs augmenting their portfolios by offering renewable energy solutions to their clients.
Ambassador Energy offers their Agency program to qualified candidates. New Agency Training is offered approximately once every four to six weeks.
###