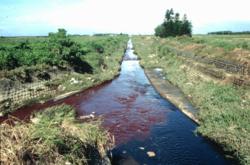 Life-Sciences.net - Environmental Sciences
(PRWEB) November 23, 2011
The Environmental Sciences category of the Life-Sciences Magazine covers the external physical conditions affecting growth, development, and survival of organisms, and their management. This section currently contains more than 32,000 articles. A great part of these contributions derive from nearly 100 international scientific journals covering this science discipline.
One of the latest inclusions deals with the effects of environmental temperature and precipitation on the normalized difference vegetation index (NDVI) for grassland and forest in the upper catchments of the Yellow River of China. Since vegetation in the upper catchment of Yellow River is critical for the ecological stability of the whole watershed grassland and forest strongly influence their eco-environmental status. Results of this study indicate that yearly precipitation and maximum temperature had close correlations with the NDVI values of the vegetation communities. The calculated climatic indicators can be used for simulating vegetation growth grassland under different climate features, which is essential for the assessment of the vegetation growth and for regional environmental management.
Another article on spatial data management priorities for assessment of Europe's coasts and seas covers the concept of data integration for systemic understanding of marine and coastal environments of Europe. The authors stress that spatial data needs to be integrated and combined with socio-economic drivers for addressing ecosystem-based management actions, such as integrated coastal zone management, maritime spatial planning or climate change adaptation in coastal regions and maritime sectors.
The social network Life-Sciences.net was established to discover and share scholarly and popular content in the basic and applied life and earth sciences including biology, agriculture, forestry, the environmental sciences, and the health sciences.
While the very latest Environmental Sciences content is rarely older than a few minutes, the front page of Live-Sciences.net usually presents stories submitted ca. 20-60 minutes ago. All categories including that of Biology feature RSS Feeds. The site's own search function enables users to search for specific keywords or phrases. For every story displayed, this search functionality automatically suggests up to 10 related articles which are displayed sorted by relevancy.
Life-Sciences.net maintains the Twitter account @Life_Sciences_ which currently features 81,632 tweets and 1,200 followers. The Environment category is represented by Twitter's @EnvironmentMag featuring 11,394 tweets and 304 followers.
###