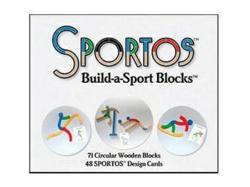 These Build-A-Sport Blocks™ allow children to create what they see in the world of sports and recreate what they do on the playground and playing fields.
Jersey City, NJ (PRWEB) November 22, 2011
RosieHippo.com, an online retailer of natural, earth-friendly toys, has introduced SPORTOS™ Build-A-Sport Blocks™, created by Rosie Hippo owner Kimberly Bloom and designer Toro as the first in a line of innovative block sets by the natural toy specialty retailer.
The one-of-a-kind block set, made of sustainable rubber wood, includes 71 multi-colored blocks, 48 design cards and 5 guide disks. Design cards outline the design, providing a visual key that makes it easier to identify which of the 71 blocks are needed to construct each design. Guide disks illustrate all of the block types and shapes that are needed to build each sports figure. The blocks can also be used to create your own sports figures and to inspire other creative designs.
"The new SPORTOS™ block set was designed to provide a new angle on a classic toy. Building blocks provide hours of creative imaginative play. These Build-A-Sport Blocks™ allow children to create what they see in the world of sports and recreate what they do on the playground and playing fields," said Bloom. "Many parents are realizing that the best value for the money is investing in well-made toys that keep children engaged instead of cheaply-made, mass-produced toys that may not last very long past the holidays."
Bloom said that the new block set is quickly climbing to the top of the retailer's "customer favorite" list, and are popular because they teach children about so many different sports, including those that will be seen in the 2012 Summer Olympic Games in London.
"SPORTOS™ are a great way for children to learn about the different sports played all over the world, and are fun for solo play, group play and family time," said Bloom. "This block set also inspires children to get their whole body up and moving as they can imitate the positions of the little block athletes they've created. SPORTOS™are great for little sports lovers, design devotees, or budding sports medicine enthusiasts."
Other best-selling products at Rosie Hippo are heirloom-quality classics—including doll furniture sized for American Girl® dolls and play kitchens handmade of pine wood by Amish craftsmen – as well as wooden animals, block sets, puzzles and vehicles.
"We place great emphasis on offering creative learning packages, such as music, art, and family learning. Items like our fairy and princess costumes, knitted cupcakes, felt and wool tea set, and vegetable rattles encourage pretend play," said Bloom. "With our Fair Trade music package, the entire family can play together, each with a different instrument, which parents find a unique and fun way to teach children about other cultures and being kind to the environment by using sustainable products."
All toys sold by Rosie Hippo are produced under conditions that are fair to workers and kind to the environment using materials such as sustainable wood, organic fabrics, or recycled materials.
During the holiday season, RosieHippo.com is offering special discounts on baby toys, toddler toys, wooden toys, dolls, stuffed animals, kitchen furniture, doll furniture and more. To receive notices on holiday discounts, visit http://www.RosieHippo.com and join the website's email list.
About Rosie Hippo
Rosie Hippo is a leading online retailer of unique, classic and heirloom quality natural toys that allow children to play, learn and grow. The hand selected toys and games are appropriate for children of all ages and for entire families to enjoy. The wide variety of toy types include dolls and dollhouses, building toys, toy trains, toy cars, toy trucks, games, puzzles, arts and crafts, push and pull toys, stuffed animals, rattles, balls, blocks, pretend play and more. Rosie Hippo can be found at http://www.rosiehippo.com.
###