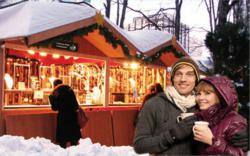 "From Ireland's shore to the streets of Philadelphia!"
Philadelphia, PA (PRWEB) November 23, 2011
John Murray CEO of Donegal Importers announced that "From Thanksgiving through Christmas Eve Donegal importers and other vendors in more than 50 wooden booths will sell traditional European food, sweets and drinks. They will also offer a great shopping experience with international holiday gifts, ornaments, jewelry and high-quality arts and crafts.
The unique atmosphere with thousands of lights, the big Holiday Tree, the delicious smell of waffles, gingerbread, bratwurst will bring you and your family into the perfect Christmas mood."
Mr Murray went on to say that "the following is a breakdown of Events of Christmas Village in Philadelphia 2011:
Sneak Peak (Thurs, Nov 24th)
Grand Opening Ceremony with the original German Christkind (Sat, Nov 26th)
"Play on, Philly!" Charity Day (Sat, Dec 3rd)
Traditional Tree Lighting Ceremony by Mayor Michael Nutter (Wed, Dec 7th)
German American Day (Sat, Dec 10th)
Last day (Sat, Dec 24th)"
###