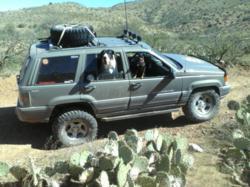 (PRWEB) November 23, 2011
Mitchell Rowan was highly suspicious of the email notifying him of his win through an entry in SweepstakesToday.com (http://www.sweepstakestoday.com) in the Dial Corporation and Dial For Men's 30 Days of Dirt valued at $9,707.
"I called (the sweepstakes headquarters) as soon as I read it to confirm it was for real."
After a series of smaller wins at the site, this one more than qualified Rowan for SweepstakesToday.com's prestigious 10K Club.
"I was shocked," he said of his big win. "My wife & I started to figure out what we would do with my son & dogs for that weekend before…" he realized he could only take a male friend with him to "Camp Dirt." The camp in question is actually the C Lazy U Ranch in Colorado. "I had a blast," he said of his weekend there.
Rowan has been entering sweepstakes off and on for "a very long time," and joined Sweepstakes Today about a year ago, he said in an interview today. He's recently become more consistent in his entries, he explained.
Asked what he likes best about the contests he said, "Winning for sure!" He figures he has now won well over $11,000 worth of cash and prizes through online sweepstakes at SweepstakesToday.com. "(It seems as if) all the time, we have got Christmas gifts for all the kids & Grandma too over the last year (from my wins."
Now retired, Rowan and his family moved to Dragoon about a year ago. He home schools his 9 year old son and in addition to his wife they also have two dogs, Kyobi the Great Dane and Billy, the Min Pin. He recently served as Vice President of the local Four Wheel Drive and Off Roading club, and was injured when he got hit by a friend's dirt bike. "This trip was the final round of my recuperation," he said speaking of his win.
###