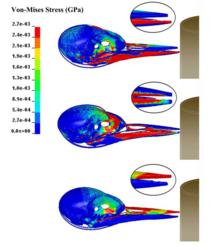 (PRWEB) November 22, 2011
A pioneering study by researchers of The Hong Kong Polytechnic University (PolyU) and the Beihang University in Beijing has unravelled the mystery of why woodpeckers would not hurt themselves in the act of pecking on the trees. This finding is expected to provide freshinsights on the safety design of helmets and other related products.
This interesting research was jointly led by Professor Ming Zhang (張明)of PolyU's Department of Health Technology and Informatics and Professor Yubo Fan (樊瑜波) of Beihang University. A series of experimental studies and computer simulation were conducted. Two synchronous high-speed video systems were used to observe the pecking motion, and the force sensor was used to measure the pecking force. The mechanical properties and macro/micro morphological structure in woodpecker's head were investigated using a mechanical testing system and micro-CT scanning. Computational models of the woodpecker's head were established to study the dynamic intracranial responses.
Based on the result of this study, the research team has come up with answers on why the repeated daily head-banging motion of woodpeckers does not sustain any brain injury. The experimental data and simulation showed that three factors are at work in sparing the injury.
Firstly, the skulls of woodpeckers are protected by hyoid bone's looping structures which serve like a "safety belt". Secondly, the upper and lower halves of the birds' beaks were uneven in length. This asymmetry lowered the impact of pecking force transmitted from the tip of the beak onto the brain. Last but not least, the "spongy" bone structure at different points in the skull helped distribute the incoming force, thereby protecting the brain.
The team said it is the combination of the three, rather than any one feature, that keeps woodpeckers pecking without injury. It is anticipated more quantitative studies before applying the bio-mechanism to human protective device design and probably industry design.
The study was published in the online edition of PloS ONE journal.
Press contact: Professor Ming Zhang
Department of Health Technology and Informatics
Tel: (852) 2766 4939
Email: ming.zhang(at)polyu.edu(Dot)hk
###